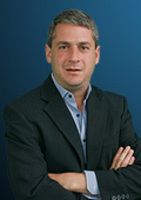 "I had an opportunity of a lifetime to embed myself into the community and find great people doing extraordinary things in their community that completely opened my to the power of hope and the belief that hard work can make a positive change in even the
Delray Beach, FL (PRWEB) March 24, 2011
South Florida Entrepreneur John Ferber left the comforts of his home and ventured out to Los Angeles largest homeless community, Skid Row, with $40 to live for a week. The excursion was a part of ABC's reality television series, the Secret Millionaire – a show that sends millionaires in disguise to the country's poorest areas to ultimately donate thousands of dollars to unsung community heroes, airing Sunday, March 27th, 2011.
Ferber made his millions after the company he founded with his brother Scott was acquired by AOL in 2004 for $500 million.
Selling his company at age 30 afforded Ferber the opportunity to help people in need in a unique way. Leveraging his acquired resources and technology background, he developed a charity website, MicroGiving.com, which enables people to raise money for anything and give a percent forward to charity or a struggling individual or a family in need.
When ABC contacted Ferber to participate in the national television series, Secret Millionaire— John was displaced from his home in South Florida to live among the country's most impoverished communities. Ferber says, "I had an opportunity of a lifetime to embed myself into the community and find great people doing extraordinary things in their community that completely opened my to the power of hope and the belief that hard work can make a positive change in even the most challenging of circumstances."
Inspired by his experience, John plans to continue to work with some of the people he met in order to make strides in further improving their communities.
For more information on John Ferber on ABC's Secret Millionaire, go to: http://www.JohnFerber.com
About John Ferber/Microgiving.com
John Ferber is the founder of MicroGiving.com, a person-to-person giving site that lets you raise money for anything, and give a percent forward to a person or charity of your choice. MicroGiving is for anyone – artists, musicians, filmmakers, developers, designers, dreamers, believers, idealists, inventors, entrepreneurs, non-profits, charities or people struggling through an economic hardship such as loss of housing, medical emergency or natural disaster.
About ABC's Secret Millionaire
ABC's Secret Millionaire is documentary-style show that sends some of America's most successful self-made millionaires into the country's poorest areas and ultimately reward some unsung community heroes with hundreds of thousands of dollars of their own money. Based on the hit UK series of the same name, each episode of Secret Millionaire follows one of America's most successful business people for a week as they leave the comforts of home behind and keep their true identities hidden while living in some of the country's most impoverished neighborhoods. At the end of the journey, they reveal their true identity and donate their own money to these local heroes.
http://abc.go.com/shows/secret-millionaire/
For media inquiries, please contact:
Vanessa Stewart
vstewart(at)microgiving(dot)com
954 557 7884
###