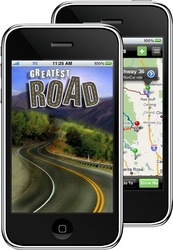 Healthy conversation is key for maintaining thriving, online communities. The new features of these apps make it easy to stay in touch with other people interested in the same roads and trips.
San Francisco, CA (PRWEB) March 24, 2011
SocialNav, Inc. today announced its investment in Greatest Road Software, maker of highly rated, social networking apps for driving, motorcycling, and other travel and leisure verticals. SocialNav today also announced the release of version 2.0 of its flagship iPhone app, Greatest Road, with several improvements to enhance conversation amongst participants and enthusiasts. The company is making the app available for free for a limited time.
Riding on the wave of social networks that bring together groups of enthusiasts worldwide, SocialNav apps provide a social connection for sports and leisure time activities. They connect travelers, car enthusiasts, and motorcyclists in over 50 countries, in part to share and discuss the best places to ride, drive or travel.
New in version 2.0 are Notifications and Alerts. SocialNav customers interested in specific routes will now receive updates with new commentary from friends and other users, including when other users have updated the road information, made suggestions about how to improve the route, or even organized group rides. Users will be completely up to date on their favorite roads and be able to discuss the best road choices with other users.
Greatest Road founder Daniel Pifko will be the SocialNav, Inc. CEO, and will be joined by SocialNav President Richard Danielson. "We are excited to join forces with the SocialNav team to deliver navigation applications that enable our users to get out and see the world by car or motorcycle and share their experiences with others in their social network ", Pifko said. "To mark this launch and introduce the app to more members of the community, we are giving the app away for free for a limited time."
"Partnering with Greatest Road strengthens both companies as we broaden our reach to Android and other platforms, include new advancements across our product line, and expand on our core technologies", Danielson said. "We will be delivering a line-up of mobile applications that address the needs of even more people involved in outdoor activities."
The combined company is to be named SocialNav Inc. Terms were not disclosed.
About SocialNav, Inc.
SocialNav Inc. is the first and leading developer of social navigation applications on smartphones for drivers and motorcyclists. Users in over 50 countries and multiple languages share routes and commentaries on the best places to ride and drive. SocialNav Inc is based in San Francisco, CA. For more information, visit http://www.socialnav-inc.com or http://facebook.com/socialnav .
Contacts:
SocialNav
Daniel Pifko
(650) 207-1999
dpifko(at)socialnav-inc(dot)com
###