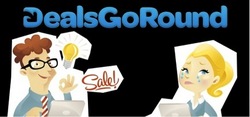 "DGR was created to provide a home for unused, high value deals and to further the growth of a brand new secondary market where end-users can resell and swap the deals."
Chicago, IL (PRWEB) March 24, 2011
DealsGoRound, the pioneer in the daily deal secondary marketplace, has officially launched with its first round of venture capital funding from an assembly of prominent Chicago area businesspeople. The angel round will be used for engineering development of the products as well as targeted customer acquisition.
Now operating in more than 50 cities nationwide, DealsGoRound was created early 2010 and was the first online marketplace that brought buyers and sellers together to facilitate the resale or exchange of daily deals from hugely popular sites like Groupon and LivingSocial. At the time of launch, DealsGoRound borrowed the Craigslist model of simply bringing the parties together but letting them expedite their own exchange. Today, the company now offers a full service online process that lets the transaction be completed through a few simple clicks on the DealsGoRound website.
"I live in the birthplace of the daily deal, so I was very early fan of Groupon," said DealsGoRound Founder and CEO, Kris Petersen. "I created the site out of my own self-frustration by unused, high value deals and as I noticed more daily deal sites starting to pop-up I recognized a massive opportunity to help build a brand new secondary market where end-users like me could resell and swap the deals they couldn't use."
Selling a deal is almost as easy as buying one. It simply requires a valid PayPal account, a PDF version of the deal and an email address. Sellers can then include as much or as little as they like. The company counsels sellers to include item specifics, business contact details and merchant locations.
A purchase guarantee is also included in every DealsGoRound transaction. To maintain the integrity of the community, all sellers have their name and PayPal account verified before they can post anything for sale. If a buyer purchases a deal the company guarantees its authenticity and if determined within 60 days of purchase and before the expiration date that the deal is fraudulent or was previously redeemed, DealsGoRound refunds the payment in full.
DealsGoRound already has over 2,500 buyers and sellers using the website. In March, they revolutionized the secondary market again by introducing a location-based mobile app on the iPhone to allow buyers to purchase deals on the go. An Android app will follow in early April.
For more information or to start using immediately, please visit http://www.dealsgoround.com
About DealsGoRound
Today's Web is loaded with daily deals and sometimes we end up with deals we can't use. DealsGoRound is an online marketplace where daily deals get a second chance. Here, users can sell deals they decide not to keep to people that missed out on them the first time. DealsGoRound empowers consumers with flexibility and security, giving sellers a way to protect their investment, and buyers the chance to seize missed opportunities. Available on the Web and via streamlined mobile applications, DealsGoRound transactions are fast, easy and reliable. We're all about spreading the savings, and it's our mission to make sure no deal is left behind.
# # #