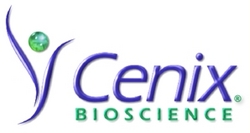 Dresden, Germany (PRWEB) March 25, 2011
Cenix BioScience GmbH, a leading contract research organization specializing in RNAi screening, microRNA-focused discovery and the development of novel in vivo siRNA delivery technologies, today announced that it has joined an EU-funded consortium focused on improving the in vivo use of siRNA technology in the area of respiratory and inflammatory diseases.
The consortium, named TACIT and funded by the EU FP7's Marie Curie Actions program, was originally started in August 2009 by the groups of Dr. Evangelos Andreakos (Biomedical Research Foundation, Academy of Athens, Athens, Greece), Dr. Cristos Tsatsanis (University of Crete, Heraklion, Greece) and Germany-based Novosom AG. Following the successful 2010 sale by Novosom of its key liposomal carrier technology and its subsequent exit from the consortium, Cenix was invited to replace Novosom for the remainder of the funding period, lasting until mid-2013. The consortium's updated project, recently approved by the EU, will focus on testing a variety of novel siRNA delivery solutions, including embodiments of proprietary Cenix DARE™ technology, that together promise innovative and groundbreaking new ways of addressing this field's top challenge for both research and therapeutic applications. The Marie Curie funding primarily supports the new recruitment and exchanges of scientific personnel by and between consortium members within the EU.
Complementing the world-class expertise offered by the groups of Drs. Andreakos and Tsatsanis using in vivo models in these disease areas, Cenix will apply both cell-based and in vivo RNAi capabilities built up at its Dresden-based operations. In particular, Cenix will leverage its state-of-the-art high-content assay capabilities using multi-parametric microscopy readouts enhanced by industry-leading Definiens Developer XD image analysis tools, to analyze the intra-tissue and intra-cellular fate of siRNAs and their associated delivery vehicles.
This effort adds further breadth to the in vivo RNAi program started by Cenix in 2008, which also includes CNS-focused R&D undertaken by the new Belgian Cenix subsidiary announced recently. Together, these complementary initiatives are diversifying the company's activities beyond the cell-based RNAi services that established it as a global leader in the RNAi research field over the past 11 years.
About Cenix BioScience GmbH:
Now in its 12th year, Cenix BioScience is a contract research organization specialized in combining advanced applications of RNAi with high content phenotypic analyses to enhance and accelerate the discovery and pre-clinical development of novel therapeutics. Cenix has built up a dominant track record in this field, successfully advancing therapeutic programs for numerous major industry and academic partners by addressing the specific needs of each through fully customized, cutting-edge research offerings covering a wide range of disease fields including oncology, cardiovascular, metabolic, neurological and infectious diseases. The well-established core capabilities in high throughput siRNA screening and multi-parametric microscopy assays have yielded optimized protocols in a broad and ever-growing collection of cultured cell models, and are now complemented by miRNA screening, and in vivo RNAi applications using synthetic siRNAs. As such, Cenix is a mature and fully proven industrial research provider, applying the highest of scientific best practices and offering a breadth and depth of specialist expertise second to none worldwide.
For more information, please contact Cenix or visit the company's web site: http://www.cenix-bioscience.com/
Contact
Dr. Birte Sönnichsen, COO, Cenix BioScience GmbH, T: +49-351-4173-0; E: http://www.cenix-bioscience.com/contact/ info (at) cenix-bioscience (dot) com
Cenix and the Cenix BioScience logo are registered trademarks owned by Cenix BioScience GmbH in the US and other countries.
Definiens and Definiens Developer XD are registered trademarks owned by Definiens AG.
###