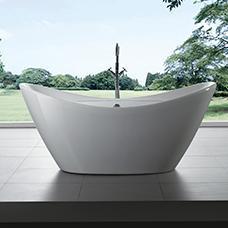 With the recession slowing down the property market, most have chosen to renovate their existing properties including their bathrooms.
(PRWEB) March 28, 2011
Its official, Bathroom Evolution merged with Bathrooms.com early last week in order to offer a large product range at the lowest prices around. Owned by IJM Enterprises, Bathrooms Evolution had been trading since 2004 and has been providing the UK market with high quality bathroom products at competitive prices. Following a significant injection of Venture Capital investment IJM Enterprises has been able to secure the domain Bathrooms.com from which they have been building a direct to consumer brand. As of last week IJM Enterprises merged the 2 brands to create one of the largest online retailers of bathroom products in the UK under the bathrooms.com brand.
The merger of the Bathroom Evolution and Bathrooms.com domains under the Bathrooms.com brand enables the business to build great scale within the market and keep prices at a competitive level. As Bathrooms.com work directly with specialist suppliers and manufacturers of bathroom products across the world they are able to cut out the "middle man" and offer prices lower than many well known bathroom suppliers and specialists.
The merger of the two domains will increase the breadth of product range on offer to consumers. With so many mainstream brands to choose from when it comes to bathrooms, bathroom parts & accessories it's important that consumers know that they are getting good choice and value for money. The selection of products available from Bathrooms.com has been increasing and is set to grow further, with the introduction of new bathroom suites, basins, furniture, tap ranges and more. The product expansion continues, so that Bathrooms.com becomes a one stop shop for consumers looking to improve bathroom fixtures throughout their property.
Many people still rely on the high street DIY stores for their bathroom products. However, retail floor space often means the selection of ranges is usually limited and the items actually available in store tend to carry a higher cost than online retailers.
Bathrooms.com provide products straight from the manufacturer, which means costs are lower than the high street and choice of styles much larger. As a result of this direct supply chain many of bathrooms.com's products sold are exclusive to Bathrooms.com and found nowhere else in the UK. Working with top designers across the world Bathrooms.com can produce exclusive and contemporary products and sell them at competitive prices.
As consumers are more frequently looking to renovate their current property instead of moving, the online market place is becoming a more popular place for the selection of Bathroom products. Particularly as price and costs become more of an issue for today's consumer.
With the merger of Bathrooms Evolution and Bathrooms.com, Bathrooms.com will be introducing a bespoke trade scheme which means that Bathrooms.com can now provide goods and services directly to the trade, with online trade facilities, discounts and more.
2011 is forecasted to be one of the most successful years for Bathrooms.com with the introduction of new products, enhanced website features, and lower prices . Delivery is also free with orders over £1250 and there is a next day delivery service available.
###