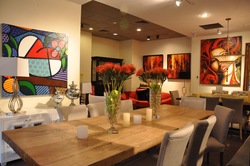 New York, NY (PRWEB) March 24, 2011
In a marketplace that is as liquid as the Hudson River, it takes a few key ingredients for a new business to make it: great product at great prices, and of course, innovation. Combine these traits with three generations of experience and expertise and you get Townhouse Furniture and Art, a stylish little find located at 400 East 54th Street in Manhattan, NY. But don't wait too long to stop in and browse the stylish and chic furniture and art boutique, because Townhouse is the latest in retail trends… Townhouse is a "Pop-up Store", a temporary store front offering customers a wide array of quality furnishings, collectable art and home goods, all at affordable prices.
Although Townhouse Furniture and Art might be a Pop-up storefront, its roots run deep as a family owned business encompassing three generations of success. Townhouse is the brainchild of Claude Kolb, the grandson of Andrew Kolb, who since 1940 has brought fine quality art at the wholesale furniture and design market. In fact, Andrew Kolb and Son is still a leading publisher and distributor of fine original artwork and limited edition giclee prints. So when Claude conceptualized Townhouse Furniture and Art to reach a broader audience and offer a larger selection, it was only logical.
"Townhouse was born out of innovation and relationships," Claude says. "Having grown up in the industry, our relationship with our manufactures is more like family. We have all known each other for a long time and therefore we share common goals and understanding." Kolb continues, "We know we can always rely on each other in both life matters and in business. So when the opportunity came for us to join efforts, we accepted the challenge."
The idea of Townhouse being a collection of Pop-up store fronts came about organically, when a colleague of Kolb's took over a vacant retail space to try and sell some large furniture pieces he had collected. Naturally creative in design, Claude offered his services to dress the temporary space with some of his art, and suddenly Townhouse was in business.
"It has been very interesting to get to know our customers. They all stop in, happy to see something new and different in the neighborhood, and then when they see the selection and prices, that happy grows to thrilled," Kolb explains. "When we explain we are a Pop-up retailer it almost seems to create a new level of interest from our customers, and then they come back with friends or send referrals. Many of them ask when we are going to be next," he continues," almost like they want to be the first ones there as we open the doors."
Townhouse Furniture and Art is presently located at 400 East 54th Street in New York, New York, and is open seven days a week from 11 a.m. to 7 p.m. Its stylish décor offers something for everyone and every price point. The selection of art is extensive including original paintings, reverse painting on Plexiglas, and mixed media pieces. There are even custom-made reverse painted Plexiglas coffee tables and accent pieces blended in between the furniture and lighting collections from such manufacturers as André Originals, Cliff Young Ltd., Lampworks, Soho Concepts, Bethel International, and more. For more information on Townhouse furniture & Art call 212.308.7623.
Media Contact:
Kara A. Kenney
T: 212.308.7623
C: 310.689.9178
E: karaannkenney (at) hotmail (dot) com
###