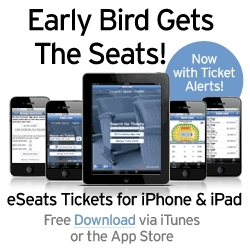 By far the best ticket app on the iPhone. I've tried them all and nothing comes close to the ease of use and speed of the eSeats Tickets app. I bought my tickets in minutes and they arrived by email in minutes". Dr Elliott Schmerler.
Scottsdale, Arizona (PRWEB) March 28, 2011
eSeats.com a leading online national ticket agency serving customers worldwide introduces "Ticket Alerts", included on the eSeats Tickets iPhone and eSeats Tickets for iPad apps.
Ticket Alerts help consumers find out about a new event sooner, giving them a better chance to purchase the seats they want. With our busy lives, keeping track of all the new events going on is hard to do. Ticket Alerts help solve this problem.
With eSeats Tickets apps installed on your iPhone™ or iPad™, a ticket alert is delivered to your device displaying the latest Concert, Sports or Theater events coming to the location entered. Ticket Alerts take just seconds to set up and can be removed at any time through the Manage Alerts area.
The Ticket Alerts feature is another great reason for iPhone™ or iPad™ owners to download the free eSeats Tickets apps.
Additional features found on the eSeats Tickets iPhone™ & iPad™ apps:
GPS Powered Ticket Search
The eSeats Tickets iPad™ and iPhone apps leverage the power of GPS to quickly find upcoming concert, sports and theater events near the user. By selecting the "Find Events Near Me" button, the user is connected to events in their area.
Ticket information share tools
Sharing information quickly is essential to the ticket buying process. With the sharing tool on the eSeats Ticket apps, users can now share event and ticket listings with friends on Facebook, Twitter and by email or SMS text messaging.
Better than the Box Office – Better Seats, Better Ticket Prices
Since tickets shown on the eSeats.com site and apps were purchased at the time the events went on sale, the location of the tickets are better than the tickets still remaining at the box office. Also since our suppliers make volume purchases, our tickets are often sold at prices below the box office or other ticket services.
More about eSeats.com:
Trusted, Reliable and Secure!
eSeats management has been serving ticket customers since 1978. All tickets sold through eSeats.com come from official suppliers and licensed ticket agents who own the tickets. All tickets come with a 150% Money Back Guarantee. As an A+ Rated Better Business Bureau company and long standing member of the National Association of Ticket Brokers, you are in good hands with eSeats.com
For more information about the latest eSeats Tickets apps please visit http://www.eseats.com/iPhone.html
###