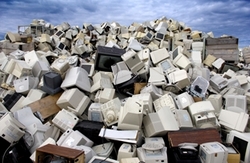 For every box of electronics equipment collected at a GreenSite® Drop Off location, the company will donate trees to the Arbor Day Foundation
Tampa, FL (PRWEB) March 25, 2011
Florida E-Waste Recycling is proud to announce its support of the Arbor Day Foundation's reforestation efforts. For every box of electronics equipment collected at a GreenSite® Drop Off location, the company will donate trees to the Arbor Day Foundation.
Each GreenSite® location will accept computers (towers and laptops), cell phones, printers, fax machines, cameras, camcorders, cameras, cassette players, CD/DVD players, modems, monitors, scanners, pagers, PDA wireless devices, radios, projectors, photocopiers, stereo receivers, speakers, telephone systems, UPS power protection and VCRs. GreenSite® does not accept televisions.
"We are encouraging businesses and the general public to donate electronics equipment, not only to keep electronics out of Florida landfills but to help plant trees in Florida and other states in forests that are in need of trees as a result of fires, disease or insect damage," stated Tom Rossi, Managing Partner.
About the GreenSite® Network:
GreenSite® is a partnership between Florida E-Waste Recycling and other businesses to reduce the quantity of e-waste disposed in our landfills. The drop-off sites are serviced by regional warehouses throughout the state. For the nearest GreenSite® Drop Off location, access http://www.floridaewaste.com.
About The Arbor Day Foundation:
The Arbor Day Foundation is a nonprofit conservative organization of more than 1 million members, with a mission to inspire people to plant, nurture and celebrate trees. More information on the Foundation and its programs can be found at http://www.arborday.org.
# # #