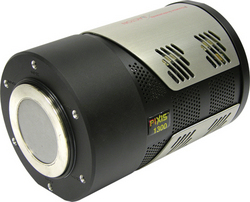 Acton, MA (PRWEB) March 25, 2011
Princeton Instruments, (PI), is pleased to announce the new PIXIS-XB series of direct detection cameras. The PIXIS-XB series is based on PI's highly popular line of PIXIS cameras and is designed for the extremely low flux imaging and spectroscopy applications in X-ray energy range between ~ 3 keV to 20 keV.
The new PIXIS-XB models feature front-illuminated and back-illuminated, deep depletion CCDs with wide variety of formats from 1340x400 to 1340x1300 pixels. These cameras provide unprecedented sensitivity and dynamic range in their class. These cameras can easily run from a laptop computer with the USB 2.0 interface and full triggering/shutter control capabilities are incorporated operating at 100 kHz and 2 MHz. PIXIS-XB cameras are especially suited for medium X-ray applications such as X-ray Photon Correlation Spectroscopy (XPCS), X-ray Intensity Fluctuation Spectroscopy (XIFS), X-ray Spectroscopy, X-ray Diffraction and X-ray Lithography.
"PIXIS-XB delivers deep cooling better than -70° C, achieved just by using thermo-electric peltier, all in a compact package offering ultra high vacuum with all metal seals and ultra low noise electronics," says Manjul Shah, Princeton Instruments' Applications Specialist. "Never before has a single camera come complete with so many high-end capabilities."
These thermo-electric peltier cooled PIXIS-XB cameras are configured with air or liquid cooling (available with PI's CoolCube liquid circulator) and comes with the renowned WinView/WinSpec software suites featuring powerful data acquisition capabilities. The macro record feature quickly and easily automates complex experiments. The camera line is also supported under LabView with a full suite of ready to use VI modules for full integration. Drivers which support the Linux operating system are also available.
Visit the product web page for more information:
http://www.princetoninstruments.com/products/xraycam/pixis_xb/default.aspx
Princeton Instruments designs and manufactures high-performance CCD, ICCD, and EMCCD cameras; spectrographs; and optics-based solutions for the scientific research, industrial imaging, and OEM communities. We take pride in partnering with our customers to solve their most challenging problems in unique, innovative ways. For more information on Princeton Instruments products, please visit http://www.princetoninstruments.com.
###