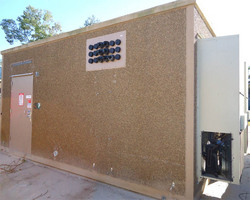 West Des Moines, IA (PRWEB) March 28, 2011
In preparation for the second quarter demand of concrete shelters for projects, CellSite Solutions, LLC has increased its inventory and added a regional sales manager to the staff. CellSite Solutions, LLC exceeded first quarter sales projections by more then 20% and is becoming one of the most recognized providers of used concrete equipment shelters in the industry.
CellSite Solutions, LLC provides a more cost effective way to protect mission critical equipment with used concrete shelters. Many industries from utility companies to wireless telecommunication companies use these shelters to protect important equipment in the field. 
Small to large companies benefit from purchasing used concrete shelters to protect equipment and complete projects under budget. Having a large inventory of shelters in various sizes, positions CellSite Solutions, LLC to help companies find the best possible solution for an upcoming project. These concrete shelters can be used for base stations, transmitter buildings, generator buildings, 911 equipment shelters, radio transmission equipment, cable hubs and many other applications.
ABOUT CellSite Solutions, LLC
CellSite Solutions, LLC was founded in 2010 by a combined group of experienced telecommunications professionals and successful small business owners. In addition to offering used concrete shelters, CellSite Solutions, LLC also offers fiberglass shelters, metal shelters, outdoor cabinets and used towers. CellSite Solutions, LLC can help with the delivery logistics of products to companies in the United States and Canada.
For more information, contact: Carter Kramer (515)868-0245 or sales(at)cellsitesolutionsllc(dot)com.
# # #