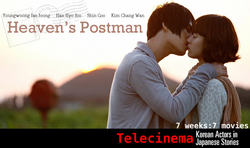 "The Telecinema film series is a fantastic collaboration of Korean and Japanese creative talent," says Boram Nam of DramaFever.com
New York, NY (PRWEB) March 25, 2011
Acclaimed international film collaboration project Telecinema comes to American audiences online via DramaFever.com. Beginning today, seven movies will be released over the course of seven weeks starring the most popular actors in Korea today performing screenplays by award-winning Japanese writers. The project was spearheaded by the film and TV production company Samhwa Networks to bring together two of the largest media companies in Asia, Seoul Broadcasting System (SBS) and Asahi TV. The seven titles include The Relation of Face, Mind and Love; Heaven's Postman; 19; Triangle; Paradise; A Dream Comes True; and After the Banquet. Film and TV fans alike in Korea and Japan have greeted the films with an incredible response and critical acclaim. American fans of independent films and TV dramas will love the touching stories that transcend borders.
Popular actors include Hero Jaejoong (formerly of super boy band TVXQ, now in spinoff group JYJ), Han Hyo Joo (star of Shining Inheritance, the biggest Korean drama of 2009), T.O.P (supporting actor in action hit IRIS and rapper in Korean super group Big Bang), Kim Ha Neul (winner of Top Excellence Award for an Actress for On Air), and Hwang Jung Eum (winner of Best New Actress award for her role in popular sitcom High Kick Through The Roof).
Award-winning screenwriters include Kitagawa Eriko (writer of popular Japanese drama Tatta Hitotsu no Koi), Yokota Rie (writer of the extremely popular Gokusen TV series), and Okada Yoshikazu (winner of Best Screenwriter award twice in Japan).
"The Telecinema film series is a fantastic collaboration of Korean and Japanese creative talent," says Boram Nam of DramaFever.com. "We are honored to add these unique movies to DramaFever's great lineup of entertainment."
"Having won over Korean and Japanese audiences, we're pleased to partner with DramaFever to bring this great entertainment to American audiences," adds Je Hyun Ahn, President of Samhwa Networks.
TELECINEMA RELEASE SCHEDULE AND FILM SYNOPSIS
The Relation of Face, Mind and Love
Releasing March 24
http://www.dramafever.com/drama/3915/1/The_Relation_of_Face,_Mind_and_Love/
Kang Ji Hwan (Coffee House) and Lee Ji Ah (Beethoven Virus, Athena) join forces in this romantic comedy about love coming from unexpected places. Kang Tae Pung (Kang Ji Hwan) is a successful interior designer. He experiences a phenomenon that makes him see unattractive people as attractive, and then he meets Wang So Jung (Lee Ji Ah), a cheerful girl who mimics animal expressions. This film, written by Oishi Shizuka (First Love, Mama wa Mukashi Papa datta) and directed by Lee Jang Soo (Stairway to Heaven), asks whether looks matter in love?
Heaven's Postman
Releasing March 24
http://www.dramafever.com/drama/3914/1/Heaven's_Postman/
Han Hyo Joo (Shining Inheritance) and Hero Jaejoong of the Kpop group TVXQ star in this melodrama about a promising CEO who becomes a postman for the dead. After an accident, Shin Jae Joon (Hero Jaejoong) falls into a coma and is given the ability to travel between the real world and heaven. He delivers the mail from the bereaved to the dead in heaven. He meets Jo Ha Na (Han Hyo Joo) and she becomes interested in his work, especially since she's the only one who can see him. Written by Kitagawa Eriko (Tell Me You Love Me, Love of My Life) and directed by Lee Hyung Min (Sorry I Love You, Snow Queen).
19
Releasing March 31
http://www.dramafever.com/drama/3910/1/19/
T.O.P (IRIS), Seungri (from Big Bang), and Huh Yi Jae (Goong S) star in a film based on friendships, loves, and the lives of three 19 years old teenagers. They get involved in a murder and runaway. Their parents, friends, policemen, the press do not believe that they are innocent. Through this hardship, they realize the meaning of their existence. The film is written by Inoue Yumiko (White Tower) and directed by Chang Yong Woo (Hotelier).
Triangle
Releasing April 7
http://www.dramafever.com/drama/3916/1/Triangle/
Ahn Jae Wook (I Love You and Bong Soon Young), Kang Hye Jung (Old Boy), and Lee Soo Kyung (Daemul) form a love triangle in a world of art and manipulation. Lee Soo Kyung is a wealthy widow who owns a famous art collection, and she is approached by a swindler (Ahn Jae Wook). However, a detective (Kang Hye Jung) keeps getting in his way, and she has her own plans for the art collection. Written by Ozaki Masaya (Massugu na Otoko, Ohitorisama) and directed by Ji Young Soo (Hello God, Flowers for My Life).
Paradise
Releasing April 14
http://www.dramafever.com/drama/3913/1/Paradise/
Kim Ha Neul (Road No. 1) stars as Mi Kyung, a woman recently released from prison who gets on a boat to an island called Paradise just because she saw it written on a flier on the train. She meets a kind-hearted teacher (Ji Jin Hee), who accepts her for who she is despite knowing her past, and learns to open up her heart again. When she rescues a student from making the same mistake that landed her in jail years ago, Mi Kyung finds herself once again in turmoil. Written by Okada Yoshikazu (Maison Ikkoku, Bambino) and directed by Lee Jang Soo (Stairway to Heaven).
A Dream Comes True
Releasing April 21
https://www.dramafever.com/drama/3911/1/A_Dream_Comes_True/
This film starring Cha In Pyo (Daemul) and Kim Hyo Jin (Mary Stayed Out All Night) is about a boy whose father is hit by a car and dies after he saw the comedian Im Sang Hyun (played by Cha In Pyo). Im Sang Hyun witnesses it and tries to deliver the father's personal effects to the bereaved family. However, the family asks him to take the boy to look for his mother. Written by Nakazono Miho (Call Center no Koibito, OL Nippon) and directed by Chang Yong Woo (Hotelier)
After the Banquet
Releasing April 28
http://www.dramafever.com/drama/3912/1/After_the_Banquet/
This film starring Shin Sung Woo (My Happy Home), Ye Ji Won (More Charming by the Day), and Bae Soo Bin (Shining Inheritance) is a fun Korean spin on the musical "Mamma Mia!" A second marriage brings all the groom's college alumni together to celebrate the wedding. The group of friends were comprised of all boys and one girl, and everyone expected the girl to show up. Instead, her daughter (played by Go Ah Sung) shows up in search for her father, who is among one of those men. Written by Yokota Rie (Gokusen, One Liter of Tears) and directed by Kim Yoon Chul (My Lovely Samsoon)
Film fans can watch the Telecinema film series and hundreds of other primetime TV shows from Asia for free on DramaFever.com. Viewers can also purchase an optional premium subscription at $4.99 per month for uninterrupted advertising-free programming, access to exclusive content and other advanced features. As of March 2011, DramaFever retains the online distribution rights to the largest digital library of Korean entertainment in North America, including suspense thrillers, historical dramas, romantic comedies, music variety shows and documentaries.
ABOUT DRAMAFEVER
DramaFever is the largest online provider of Korean TV dramas and a leading distributor of Asian entertainment in North America. The company licenses content from major Asian media companies and streams videos in high quality with English subtitles via DramaFever.com, as well as syndication partners such as hulu.com. DramaFever's content partners include KBS, MBC, SBS, FUNimation, Asahi TV, ABS-CBN, Joyplex, Group Eight, ISplus, JS Pictures, and many others.
http://www.DramaFever.com.
ABOUT SAMHWA NETWORKS
Founded in 1980, Samhwa Networks Co., Ltd is one of Korea's most respected entertainment companies. Publishing and distributing more than 2,000 video titles, Samhwa has grown remarkably as a leading entertainment group in Korea's entertainment industry through its long-running experience in TV series production. Including "Bakery King, Kim Takku", "Life is Beautiful", "The Temptation of an Angel", "Mom's Dead Upset", "The First Wives Club", "Daughters-in-Law", Samhwa has produced over 56 TV series titles, which is equivalent to over 3,200 hours of air time, covering various formats from cultural to commercial contents.
http://www.shnetworks.co.kr
###