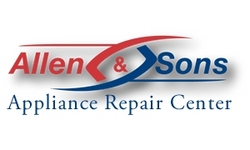 ...because appliances deserve a second chance!
Canoga Park, CA (PRWEB) March 29, 2011
Knowing how precious the concept of time is and how automated and technologically advanced the world has become, Allen & Sons: Appliance Repair Center has set a new standard in the industry. The company has gone far beyond interactive scheduling, providing its customers with complete online freedom and control over everything that has to do with their appliance repair.
Now all Allen and Sons' customers may not only do the standard procedure of choosing, checking, and scheduling appointments on their own, but they are also presented with a 24/7 access to company's database. This means that customers may now easily see their part orders, contact managers and technicians, as well as access every detail of their service history any time 7 days a week. The only thing that a customer would be asked to do is to sign in into his or her account in order to bring up the information. This should be very convenient and uncomplicated to do, especially during the non-operating hours or in the situations when making a phone call could be problematic.
Here are some of the things that customers may easily access on the Allen and Sons' website:

Complete repair history with the company
Copies of the invoices
All appliances serviced
Ordered parts information
Warranty information
Contact your technician
Contact our manager
Questions, comments, suggestions
All of these services are provided to customers at no extra charge. Scheduling is fast and easy at MyApplianceService.com
###