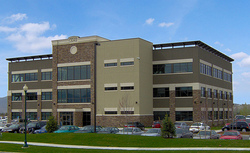 "Golden Spike Outreach and PMI share the common cause of helping people develop the skills necessary to become self-sufficient," Smith said. "It was an easy check to write."
Lehi, UT (PRWEB) March 26, 2011
Professional Marketing International (PMI) has made a generous donation to Golden Spike Outreach to help the organization in their ongoing cause to help individuals who have spent time in prison as they integrate back into society.
"When men and women get out of prison, it can be difficult for them to adapt to their new lives. There can be a stigma associated with the past, and many don't have the modern skills necessary to secure a good job," said Phil Smith, President of PMI. "Golden Spike is a great organization, working to help people once again become contributing members of society."
Golden Spike Outreach is a non-profit organization which provides rehabilitation services for these individuals as they work to reenter society, as well as overcome any substance issues they may have. The organization offers medical, psychological, physical, and spiritual assistance to rehabilitate, prepare, and empower individuals. They are also working toward opening a working ranch which will help clients by offering activities such as crop and cattle farming, as well as vocational training – from welding, carpentry, and auto mechanics to sewing and floral design.
"Golden Spike Outreach and PMI share the common cause of helping people develop the skills necessary to become self-sufficient," Smith said. "It was an easy check to write."
Rev. Richard O. Green, from Golden Spike Outreach, accepted the check at the PMI headquarters – located at 3049 N. Executive Parkway in Lehi, UT, near Thanksgiving Point – at 2:30 p.m. on Tuesday, March 22.
Those interested in learning more about the organization can visit http://www.GoldenSpikeRehab.com.
# # #