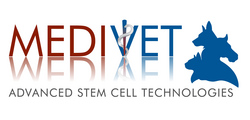 "With Medivet's advanced Adipose Stem Cell Technology Veterinarians can now finally offer affordable Therapy for the treatment of degenerative diseases"
(PRWEB) March 26, 2011
An Australian company has developed a stem cell treatment which is helping to relieve pain and suffering in small and large animals all around the world.
Medivet Pty Ltd, with its own Research and Development Division and using world class manufacturing technology, has a number of Intellectual property processes which permit veterinarians to extract, process and activate an animal's own adult stem cells which are then injected back into the animal's own body a procedure which is exclusive to Medivet and its veterinarians.
This unique procedure, developed and owned by Medivet, is now being used in several countries worldwide and is being hailed by international veterinarians as the leading treatment for many degenerative diseases including primary and secondary arthritis, hip dysplasia, damaged or torn ligaments and tendons, joint pain, worn or damaged cartilage etc.
While stem cell technology has been referred to in medical literature since the late 1800's, serious research has only produced viable technology within the last 10 years. The first patents, for basic human technology, were issued some ten years ago. However, some 3 years ago, Medivet, seeing the potential for new technology, especially for use in the often neglected veterinary branch of medicine, began research to develop brand new, up-to-date procedures.
Now, after spending 3 years and millions of dollars in research and development Medivet has perfected for the veterinary market one of the most exciting and valuable treatment technologies ever released exclusively for the veterinary field.
Announced just 7 months ago, this technology is taking the world by storm with exports to 14 countries and growing every month. The company is growing from strength to strength as is expands with its American division, Medivet America LLC leading the field in sales and Adipose Stem Cell procedures.
The new system developed by Medivet involves a small surgical incision to harvest some of an animal's own adipose tissue, process it to isolate millions of dormant adult stem cells and then activating those cells using Medivet's two unique simultaneous intellectual property processes, before injecting the stem cells back into the animal's body.
Just one year ago, the previously existing technology was delivering 400,000 to 700,000 dormant stem cells per gram of adipose tissue. When Medivet first released its own technology, delivery leapt to 1 to 3 million activated stem cells per gram. Generation two delivered up to 3 to 8 million activated cells per gram of fat and now, with the latest advancements, in our third generation technology, up to 30 million activated stem cells per gram are being delivered.
This brand new technology was developed independently of any other organization by Medivet and is proven to deliver more activated stem cells than any other preceding technology.
Trials have been conducted, and are continuing at a number of universities, in Australia and internationally, all with positive results. Thousands of Adipose Stem Cell Kits have been supplied to veterinarians and distributors globally to perform Stem cell procedures. Medivet is currently exporting the kits to over 14 countries internationally.
Medivet continues to spearhead research and development in stem cell technology and will continue to conduct laboratory and clinical trials for the foreseeable future to ensure that all its stem cell technology remains at the forefront in the veterinary area of medical treatment and the superior treatment of choice for all degenerative diseases in animals.
Medivet's continuing commitment to R&D has ensured several trials are simultaneously underway, one of which is currently being undertaken in Australia by Dr. Simon Bailey from the University of Melbourne to trace and track what Stem cells do within the animal's body when administrated IV.
By continuing to support such research Medivet will ensure it is at the forefront of veterinary medicine and continues to be a market leader of stem cell therapy and research for many years to come.
###