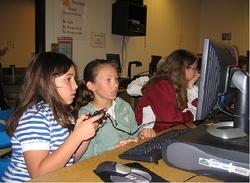 "The Kids love using a Game Controller on the Computer" Heather Bohannon, Education Volunteer
Portland, OR (PRWEB) March 28, 2011
Triggerfinger Software, Inc., announces the release of their name sake product for use with all computer platforms. Triggerfinger Software's patent pending technology replaces the Internet Ready TV remote control or your PC keyboard and mouse with a handheld, easy to operate game controller. The user friendly game controller is already a familiar item in the living room. With Triggerfinger Software the game controller provides complete computer command and control with a universally recognized device. Product availability and download information can be found at the Triggerfinger Software Product Page.
Kids take 10 minutes to master Triggerfinger enabled game controller: Product testing in the educational markets show on average kids are able to master the use of a Triggerfinger enabled game controller in less then 10 minutes. The tutorial games and natural interest in game controllers provides all the necessary incentive for kids to use a game controller to operate their computer.
Gaming controller for PC Gaming: Bridging the gap between game controller convenience and PC capabilities has been troublesome since the beginning of online gaming. Triggerfinger enabled controllers provide the convenience of a handheld device with the complete functionality of a keyboard and mouse.
Enhance the Living Room experience: Using a Triggerfinger enabled game controller provides the flexibility to operate the Internet Ready TV with feet up while relaxing in front of the big screen TV. The game controller provides the lean back feature consumers have been looking for in a living room entertainment experience. For entertainment or any computer applications, Triggerfinger enabled devices provide fingertip controls for every computer needs.
About Triggerfinger Software: Founded by Douglas Naimo in 2003, Triggerfinger Software is the industry leader in the development of Handheld Advanced Technology Systems (HATS) for operating computer platforms for Education, Accessibility, Consumer, Entertainment and Military applications. Affiliated organizations focused on the development and distribution of HATS capabilities include Triggerfinger Research Institute, Triggerfinger Simulation Training Center and Children's Accessibility Foundation.
# # #