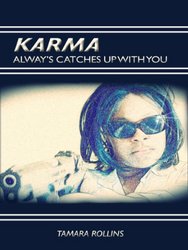 Karma will eventually catch up with you.
Gilbertsville, PA (PRWEB) March 26, 2011
Tamara Rollins has released her first novel titled "Karma Always Catches Up With You" and it can be purchased on Amazon.com, Createspace.com, Tamararollins.com and at Black and Nobel Book Stores.
Rollins has received her Bachelor of Arts Degree in Business Administration from Immaculata University and is currently pursuing her Master of Human Resources Degree from Strayer University.
Karma is an intriguing woman who chases the dream of being an actress to New York City. She meets a man on her journey to find fame and their relationship takes on a whirlwind effect. Karma is warned that her new love interest may not be the man that she thinks he is but she refuses to listen. Karma's innocence starts to falter as she realizes what she has gotten herself into. She must fight to regain her self-respect and freedom. Karma realizes that being rich and famous wasn't the answer to her prayers. Now she must dig herself out of the hole that she created for herself.
# # #