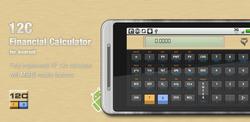 "Based on the huge success of 12C Financial Calculator on Apple App Store, We strongly believe that 12C Financial Calculator for Android, currently the only emulator of HP 12C calculator on Android Market, will be another hit.
San Jose, CA (PRWEB) March 29, 2011
Vicinno Soft, LLC has announced the release and immediate availability of 12C Financial Calculator 1.3 for the Android, a powerful and unique emulator for the well known HP 12C Financial Calculator in Android market. Identical in every aspect, the app provides a perfect emulation of the layout, functions, algorithms, capabilities, and key sequences of the original. It is an ideal financial calculator Ideal for courses in Accounting, Economics, Finance, Marketing, MBA, Mathematics, Sciences, Real Estate, and Statistics.
Since release, the HP 12C calculator remains the best selling financial calculator and is one of only two calculators permitted on the CFA exam. To make it available to everyone in pocket without extra weight, Vicinno fully implements original HP 12C functions plus more suitable features for Android phones.
As a professional application, 12C Financial Calculator offers users great customer interface and user friendly features, in addition to full implementations of original HP 12C calculator, like user manual accessible from within the app for reference on the go, optional key click sound with each tap providing additional feedback, and so on. These features give customers more choices and better user experience, and are unavailable in the other apps.
Feature Highlights:

Time value of money, TVM
Cash flow analysis NPV, IRR
Amortization
Bond price and yield to maturity
Depreciation with SL, DB, and SOYD methods
Loan payments calculation
Memory for 20 cash flows
% change, % of total
Statistical analysis
Date arithmetic
RPN entry
Keystroke programming
Automatically save/restore calculator settings
Touch logo to enable or disable key click sound setting
More...
Just as the original HP 12C, the app has over 120 built-in functions, 1-line 10-digit display, 20 registers, 99 step memory capacity, and use efficient RPN data entry reducing the number of keystrokes.
"Based on the huge success of 12C Financial Calculator on the iPhone App Store," Product Manager John Hopkins commented. "We strongly believe that 12C Financial Calculator for Android, the only emulator of HP12C now on Android Market, will be another hit. Also, compared to the $70 HP 12C Financial Calculator, our app is truly a good deal."
Pricing and Availability:
The 12C Financial Calculator 1.3 for Android is on sale at $5.00 (USD), and available worldwide through the Android Market in the Finance category.
12C Financial Calculator 1.3 on Android Market
Other Support Platforms:
iPhone, iPad, and Mac
Other finance apps from Vicinno:
BA Financial Calculator Pro, which best emulates BA II Plus Financial Calculator of Texas Instruments with identical math, algorithms, and key sequences, available on iPhone, iPad, and Mac App Store (Android version is coming soon). and More apps.
About Vicinno:
Located in San Jose, California and founded in 2009, Vicinno Soft, LLC is committed to make high quality applications for mobile community. Look for other Vicinno releases in the App Store and Android Market, including BA Financial Calculator Pro, 15C Scientific Calculator, Emoji plus icon, and more coming soon.
Copyrights:
All Material and Software (C) 2011 Vicinno Soft, LLC. All Rights Reserved. Apple, the Apple logo, iPod, the iPod logo, are registered trademarks of Apple Computer in the U.S. and/or other countries. HP 12C is a trademark of Hewlett Packard. BA II Plus is a trademark of Texas Instruments.
Product Manager
John Hopkins
# # #