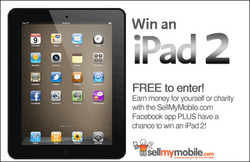 With the launch of this new app, the SellMyMobile Team have also decided to run a competition to win an iPad 2.
(PRWeb UK) March 28, 2011
The launch price for the iPad 2 is set at around £399 at most stores and with pioneering features such as:
The sleek design
Better ergonomics
Better battery life
Facetime chats
Smudge-resistant screen
iOS 4.3
The iPad 2 release will provoke the interest of hardcore Apple fans, iPad enthusiasts, and even new fans are starting to emerge out of the woodwork.
To celebrate the launch of SellMyMobile's new Facebook app they are giving away a brand new, stunning iPad 2 in the competition titled appropriately, Win an iPad 2.
The Facebook app features the equivalent, unparalleled, price comparison you see currently on SellMyMobile.com to guarantee you are certain to always get the most money for your mobile. However, the best part is that if you send it to your friends you can earn yourself money or your chosen charity.
The app is simple and straight-forward to use. All you have to do is click which of your Facebook friends you want to send it to, and then every time one of your friends uses the SellMyMobile app to sell their mobile phones you earn yourself £2 for each sale. There is no catch at all and it doesn't cost you or your friends anything. You are purely sending your friends a link to the Facebook app.
In fact, your friends will be thankful for you sending it to them as you will be helping them get the most cash for their old mobile, and then they can send it on to their friends and they too can earn cash for themselves or their charity.
With the launch of this new app, the SellMyMobile Team have also decided to run a competition to win an iPad 2. So you use the app to earn yourself or your charity money and you also get an entry to win an iPad for free.
It is entirely free to enter the competition, and all you have to do to stand a chance of winning the most desirable gadget on the planet right now is 'Like' the Facebook page and signup to use the Sell My Mobile new Facebook app and invite your friends.
To do this you will need to visit the Facebook Fan Page, click the 'Like' button at the top of the page and then click the 'Invite Friends' button. Finally signup and then choose which friends to send the app to, and whether you want to receive the money yourself or select a charity to donate it to.
The promotion ends on 31st May at 23:59 so make sure that you get your entry in before then to be in with a chance, and good luck to all who enter!
###