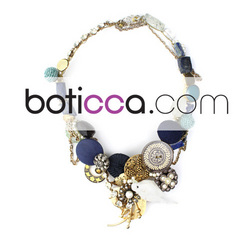 London (PRWeb UK) March 29, 2011
Boticca.com today announces a global competition to find the most unique, inspired look for accessorising the Royal Wedding of HRH Prince William and Kate Middleton celebrations for a chance to guest curate Boticca and win unique jewellery and accessories from the site. Boticca is the online destination for unique jewellery, bags and fashion accessories from the world's top emerging designers.
The Royal Wedding is just around the corner, and whilst everyone is speculating about the dress, Boticca's team is most excited about the jewellery and fashion accessories. From royalty to revellers, Boticca is searching for the most inspired look for accessorising the ceremony and celebrations at the end of April.
Contestants are asked to style a set for the wedding celebration using unique pieces from Boticca's emerging designers, and the winner will be chosen by the set with the most "likes" on Facebook. The winning set will be featured for a week on Boticca's style blog and permanently sit alongside guest curations by leading fashion editors and bloggers.
The winner will receive a one-of-a-kind necklace by emerging British designer Little Glass Clementine (cash value of £525), and the second and third runners up will receive unique accessories from Boticca valued at £100 and £50 respectively. All sets need to be submitted by midnight BST on Friday, 8th April and voting will close at midnight BST on Friday, 15th April. Boticca will announce the winning entry and runners up on its website on Monday, 18th April at 12 noon BST.
For further information on Boticca and the Royalty to Revellers Competition, visit http://www.boticca.com/competition.
About Boticca.com:
Boticca.com is the online boutique for unique jewellery and fashion accessories by top emerging designers from around the world. Boticca makes it easier and more enjoyable for customers to discover high-quality, distinctive jewellery and accessories with a meaningful story, such as bags, belts, scarves, hats, rings, bracelets, necklaces and earrings. The marketplace is curated and edited by a team of fashion experts, designers, stylists and collectors, who illustrate the culture, stories and inspiration behind the collections on the site.
For further information:
Eliza Dabney
PR & Communications
Boticca.com
Tel.: +44 792 006 6347
Web: http://www.boticca.com
###