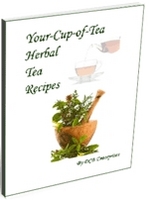 Many people today are becoming more interested in natural healing methods, and some are even looking for ways to reduce their dependence on conventional medical treatments, particularly those involving drugs with potentially harmful side effects
Cliffside Park, NJ (PRWEB) March 29, 2011
When herbal tea enthusiast Connie Bednar created Your-Cup-Of-Tea.com, a web site dedicated to providing information on loose leaf tea and herbals, she had no intention of writing a book as well. However, repeated requests from her site's visitors for an all-in-one reference manual prompted her to publish her new ebook, Herbal Tea Recipes In it, readers will find over 100 recipes that promote the health benefits of tea and herbal tea remedies.
"Many people today are becoming more interested in natural healing methods, and some are even looking for ways to reduce their dependence on conventional medical treatments, particularly those involving drugs with potentially harmful side effects," says Bednar. The new book offered through her website provides over 100 traditional herbal remedies in easy to read recipe format, and is aimed at those seeking solid information on herbal alternatives.
In addition to detailed recipes and important information on the traditional uses of various herbs and teas, Bednar's book includes many pictures and photographs. "People who want to learn about and use herbs also want to see and understand what they are using," notes Bednar, who says the pictures will help readers identify plants and flowers that are good to use for herbal tea.
Herbal Tea Recipes offers safe and effective relief for common complaints such as migraine headache, upset stomach, chest infection and cough, as well as herbal teas to boost the immune system. "Many people are surprised that there is a safe herbal formula to relieve colic in babies and soothe mom's nerves," relates Bednar. Other helpful bonuses include a glossary that explains the properties of various herbs, suggestions on where to find herbal ingredients, and much more.
"I'm excited to be able to expand the Your Cup of Tea website with practical information on the use of healing herbs," explains Bednar. "The new e-book makes this timely information more accessible and easier to use than ever, and my hope is that it will become a valuable resource for those who are interested in working alongside Mother Nature to incorporate natural healing methods such as foods and herbs into their daily lives."
Bednar's new e-book is now available at a special introductory price here at Herbal Tea Recipes] on her website.
Your-Cup-of-Tea.com is a subsidiary of DCB Enterprises located in Cliffside Park, New Jersey. The company is committed to providing up-to-date information on loose leaf tea and herbal teas. Visit our website to find additional information.
# # #