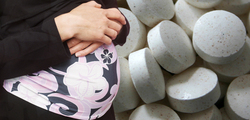 We are concerned by evidence that drug makers did not voluntarily change their pregnancy warnings earlier in response to the UK data
Newport Beach, CA (PRWEB) March 28, 2011
The Senators (Ret.) Firm, LLP, announced today that it is continuing to investigate a number of reported cases of birth defects in children born to mothers who ingested the drug Topamax (topiramate) during pregnancy. The investigation comes in the wake of a recent decision by the FDA to require the manufacturers of the anti-epilepsy drug to significantly strengthen warnings for woman who are or who may become pregnant.
In an FDA press release dated March 4, 2011 the Agency said that "new data" suggests that topiramate (the generic name Topamax) "increases the risk for the birth defects cleft lip and cleft palate in babies born to women who use the medication during pregnancy." However, a data review conducted by The Senators Firm suggests that strong evidence of an association between the drug and these conditions was published in medical journals as early as June 2008.
According to the FDA, data from the North American Antiepileptic Drug (AED) Pregnancy Registry indicate an increased risk of oral clefts in infants exposed to Topamax during the first trimester of pregnancy. Infants exposed to Topamax as a single therapy experienced a 1.4 percent prevalence of oral clefts, compared with a prevalence of 0.38 percent – 0.55 percent in infants exposed to other antiepileptic drugs. Cleft lip and cleft palate, collectively called oral clefts, are birth defects that occur when parts of the lip or palate do not completely fuse together early in the first trimester of pregnancy, a time when many women do not know they are pregnant. The defects range from a small notch in the lip to a groove that runs into the roof of the mouth and nose, possibly leading to problems with eating, talking, and to ear infections. Surgery often is performed to close the lip and palate and most children do well after treatment.
Evidence linking Topamax birth defects in humans is not new. Writing in the July 2008 issue of the medical journal Neurology ("Topiramate in pregnancy -- Preliminary experience from the UK Epilepsy and Pregnancy Register"), researchers reported that "exposure to the antiepileptic medicine Topamax in the first trimester of pregnancy carried a higher-than-usual rate of congenital malformations."
"We are concerned by evidence that drug makers did not voluntarily change their pregnancy warnings earlier in response to the UK data," said former California State Senator Martha Escutia, who is a former Chair of the California State Senate Health Committee and a co-founding member of The Senators Firm. Escutia also said that evidence suggesting that the manufacturers may have encouraged doctors to use Topamax to treat conditions for which the medication was not approved such as migraine headaches and certain psychiatric disorders was "troubling." In 2009 Ortho-McNeil Pharmaceutical LLC and Ortho-McNeil-Janssen Pharmaceuticals Inc, manufacturers of topiramate under the name Topamax, were accused by the Department of Justice of promoting the drug to physicians for unapproved purposes. The manufacturers plead guilty to a misdemeanor and paid a $6.14 million criminal fine for the misbranding of the drug. In addition to the criminal fine, Ortho-McNeil-Janssen Pharmaceuticals paid $75.37 million to resolve civil allegations under the False Claims Act that they illegally promoted Topamax and caused false claims to be submitted to government health care programs. The two cases, both filed in the District of Massachusetts are United States ex rel. Maher, et al. v. Ortho-McNeil Pharmaceutical, Civil Action No. 03-11445-WGY, and United States ex rel. Spivack v. Johnson & Johnson and Ortho-McNeil Pharmaceutical, Inc., Civil Action No. 04-11886-WGY.
For more information on filing a Topamax Lawsuit or The Senators Firm, please visit: http://www.thesenatorsfirm.com or call toll free 24 hrs/day (866) 899-1962.
###