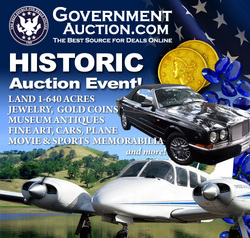 Tehachapi, CA (PRWEB) March 25, 2011
Over 1,500 items to be liquidated in this 1 Day Auction Event. Items to be auctioned include; Cars, Plane, Rare Antiques, Jewelry, Gemstones, Rolex Watches, Gold & Silver Coins, Art, , GIA Diamonds, Movie Memorabilia, Sports Memorabilia, Slot Machines, Antique Music Boxes, Victorian Era Items, Estate Antiques & Collectibles.
Plus special feature 200 pieces Seized Properties to include parcels from 1 acre to 640 acres located in areas such as, Hawaii, California, Texas, Arizona, Florida, Nevada, Wyoming, Canada, Oregon, and New Mexico.
To view this auction please click the link below
Historic Government Auction-Just Released Assets -1 Day Only - March 27, 8:00 AM PST
Click Here to View this Historical Auction Event!
or
http://www.liveauctioneers.com/catalog/24406
About GovernmentAuction.com
GovernmentAuction.com is a private company, the largest company of its kind to acquire literally thousands of properties and assets. In most cases we acquire these properties and assets at 10% - 30% of actual retail value. This enables potential buyers throughout the world to buy land and invest in assets at discounted pricing.
Contact Info:
Paul Sabesky
Marketing Representative
GovernmentAuction.com
Phone: 661-823-1543
Web: http://www.governmentauction.com
###