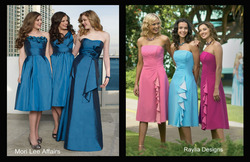 The bridesmaid trends have evolved to styles that are beautiful yet timeless
Port Jefferson Station, NY (PRWEB) March 29, 2011
A woman's wedding day is an important milestone in her life. It is also the time she welcomes her closest friends and family to be a part of her wondrous day. Deciding what style and color bridesmaid dresses can be an unenviable task because styles and trends change from year to year. Magic Moments, an authorized retail store that specializes in social occasion dresses, breaks down what the current trends are.
Bridesmaids no longer need to wear matching dresses. The new trend is coordinating the looks of the dresses. There are many designers like Alfred Angelo, Forever Yours, Bari Jay, Mori Lee, Bill Levkoff and Bella Formals that offer different styles in a multitude of colors to choose from. Whether the bride desires a short or long dress for her bridesmaids, she can choose different styles such as halter straps, spaghetti straps, tank straps, and even strapless! Have the bridesmaid decide which style suits her body best, and then let the bride pick out the color. Another trend becoming popular is the "color run" That means each bridesmaid wears a different color of the same dress. This is a pretty trend for spring and summer.
Short bridesmaid dress styles seem to be all the rage because of their versatility. Designers, like Purely Alfred Angelo, Ava by Mori Lee, and Expressions by Forever Yours, are making bridesmaid dresses feel more like sophisticated evening wear. Magnificent fabrics and colors make these dresses perfect for any special occasion. Bridesmaid dresses are also acquired for wedding guest dresses, engagement dresses, Quinceaneara court dresses, dresses for socials and formals.
As far as color, choose a color trend of the season. Spring brings colors of light pink, green and aqua blue. The summer offers bright yellows, oranges, hot pinks, fuchsia, and purple hues. Falling of leaves, in the fall, prompt the colors of chocolate brown, burnt orange, mocha, hunter green and gold. If the wedding is in the winter, you will notice silver, white, black, red, ice blue and royal purple are preferred colors of the holiday months and New Year.
Last, but not least, is the formal footwear. Some brides still desire to have the shoes match the dress, but the new trend for shoes are Metals. Silver and gold are the two most popular color choices and can be worn again and again. The bridesmaid can choose the size heel most comfortable to her, yet match the metallic shoe color of the bridal party.
With watching the economy struggle the past few years, it is nice to see the fashion industry take into consideration what consumers want. The bridesmaid trends have evolved to styles that are beautiful yet timeless. Many styles can be worn more that once, yet give the Bride the formal look she craves.
If you are looking for a great selection of dresses, whether it's a bridesmaid dress, mother of the bride/groom dress, flower girl dress, or social occasion dress, turn to Magic Moments Collections
# # #