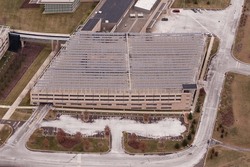 "We're very pleased with our decision to standardize on Draker's technology and services and look forward to continuing to partner with them on future projects." - Gregg Barchi, Director of Operations & Maintenance, RAI
Burlington, VT (PRWEB) March 28, 2011
Draker Labs, a provider of high performance turnkey monitoring systems for large commercial and utility-scale solar photovoltaic (PV) systems, has been selected by Ray Angelini Services, Incorporated (RAI), to monitor 11 solar projects located throughout Pennsylvania and New Jersey. Seven of the projects have been commissioned and the remaining ones are currently under development. The projects include a mix of commercial sites and educational institutions.
According to Gregg Barchi, Director of Operations and Maintenance at RAI, the decision to select Draker followed a comprehensive review of monitoring vendors. "We wanted a complete, end-to-end solution from a single vendor with a proven track record in commercial PV monitoring. Draker is unique in that they have been providing monitoring hardware, web interfaces and field services for over 10 years. They have deep commercial experience and provide a level of technical guidance we rarely see from other vendors. We're very pleased with our decision to standardize on Draker's technology and services and look forward to continuing to partner with them on future projects."
Draker CEO Charles 'Chach' Curtis, cited the RAI partnership as an important milestone in solidifying the company's position as a leader in commercial PV monitoring. "As one of the premier east coast solar developers, Ray Angelini enjoys a stellar reputation for technical excellence and quality support services. We are thrilled to have been chosen by them to monitor their PV projects and look forward to a long and healthy partnership between the two companies."
About RAI
Founded in 1974 by Raymond I. Angelini, RAI is a solar construction, general construction, electrical contracting and testing firm servicing commercial clients in NJ, PA, DE and MD. Originally established as an electrical contracting company, RAI formed a solar division in 2004 and has since completed solar projects throughout NJ, PA, DE and MD. To learn more about Ray Angelini, Inc. visit http://www.raiservices.com or call the Sewell, NJ-based headquarters at 856-228-5566.
About Draker
Draker Laboratories provides highly accurate and reliable monitoring solutions that help owners and operators of commercial-scale PV systems maximize the efficiency and profitability of their solar assets. As a supplier of end-to-end monitoring solutions, Draker's turnkey systems combine proven field instrumentation with an intuitive web-based data management system and unmatched customer support. http://www.drakerlabs.com
# # #