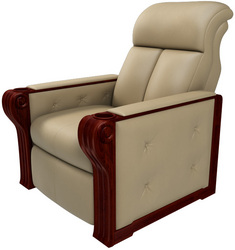 The included video demonstrates the interactive cababilities of the online Chair Builder Tool
(PRWEB) March 29, 2011
Slick art-deco lines, copper detailing, patterned upholstery and hand-carved wood finishes have been incorporated into Elite Home Theater Seating's new product line for 2011. The company, which designs, builds and sells high-end home theater furniture, will be harking back to the golden days of cinema and theater for its new 2011 designs that are available in a wide range of colors and unique fabrics. Since they
are the manufacturer, COM (Customers Own Material) is accepted.
"Home theaters come in a variety of themes and styles," says Bobby Bala, Elite HTS president, "ranging from modern, high-tech space themes to 1920's style traditional Art Deco designs. Our new line of seating allows us to cast a wider net and accommodate all types of theater environments."
"About a year ago we started to conceptualize various designs for our 2011 line. The goal was to create designs that merged traditional styling with the modern, contemporary styling and lasting-build quality that we are known for."
8 new designs are now available, including the new 'L Series', 'S Series' and 'V Series'. As with all original models, the various parts of each "Design Series" can be interactively mixed and matched using the Custom Chair Builder Tool on the award winning Elite HTS Website. So for example, the "arm" style of the "J Series" can be interactively combined with about 12 various "Seat Back" options and styles. Colors and fabrics can also be interactively changed. This allows for hundreds of possible unique chair configurations. Click Here to build your custom theater chair.
The 'J Series' is an example of this combination of modern and traditional styling that features a hand-carved wooden accent into the sleek modern design of the arm.
The 'S Series' goes a few steps further with traditional styling by incorporating an intricate, hand-carved wooden corbel on the front of the arm. Finished off with traditional tufting and buttons, this model would fit right in to any classically inspired home theater.
For those looking for the ultimate in luxury, the 'V Series' recliner layers an intricately carved, wooden Art Deco pattern over an upholstered arm to create a completely unique home theater seat which showcases the quality of Elite HTS craftsmanship.
High quality patterned fabrics are also available for all of these new models. In contrast to the muted blacks and tans preferred in contemporary design, these colors and patterns add spice and even more character to the home theater.
Like all of the theater chairs that Elite Home Theater offers, every aspect of the design can be adjusted or tailored such as gold plated cup holders and custom embroidered logos and family crests. Each chair uses a U.S. made recliner mechanism combined with a German motor, and a sturdy heavy duty frame. Weighing over 150lbs per chair, Elite Home Theater Seating is definitely made to last. A 10 year warranty also comes standard.
The complete 2011 line can be viewed by visiting the "Models and Colors" section of the Elite HTS Website.
###