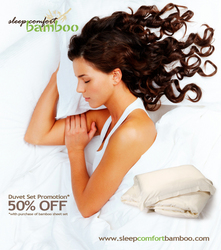 "Your sleep environment is an important personal retreat where you will spend almost a third of your lifetime, it should be an oasis of comfort to recharge and restore your life energy. You are going to love the quality and comfort of our bamboo bedding."
(PRWEB) March 28, 2011
SleepComfortBamboo.com announced the launch of their new online bamboo bedding store specializing in premium bamboo sheet sets, duvet covers, pillow shams, and pillow cases. The store is accessible at sleepcomfortbamboo.com and offers luxury bamboo bedding at extraordinary prices.
The president of the company, Van William Shron, said "You are going to love these bed linens made from 100% bamboo fiber. Once you have experienced the pure comfort of bamboo bedding, you will not want to sleep on anything else! Try Sleep Comfort Bamboo's swatch service to ensure that your beautiful bamboo sheet sets and duvet covers will co-ordinate with your bedroom decor."
Sleep Comfort Bamboo's sheet sets, duvet covers and pillow cases are finely crafted in a micro-twill weave and ultra-sateen finish to enhance the natural smoothness, luster and softness which are characteristic of bamboo fabric. The extraordinary comfort of the bamboo bedding is enhanced by its natural strong ability to wick moisture away from the body, keeping you dry and comfortable while sleeping. People with sensitive skin will appreciate that Sleep Comfort Bamboo bed linens are remarkably smooth, non-abrasive and hypo-allergenic. At a time when it is important to make sound ecological choices, the positive eco-narrative of bamboo is an added feature of this fine 100% bamboo bedding.
"Considering that your sleep environment is an important personal retreat where you will spend almost a third of your lifetime, it should be an oasis of comfort to recharge and restore your life energy. You are going to love the comfort and quality of our bamboo bedding. Pamper yourself. You really will not want to sleep on anything else." said Shron. The textile professionals at Sleep Comfort Bamboo got it right. Their high quality and silky soft bamboo bed linens have taken bamboo bedding to the next level and made an inherently good product better.
Sleep Comfort Bamboo's new product line: Our bedding collection includes bamboo sheet sets (flat sheet, fitted sheet and two pillow cases) in four sizes from double to California king and in five décor friendly colours: white, ivory, silver, chocolate and sage. Bamboo duvet cover sets include two bamboo pillow shams and are available in queen and king sizes in all five colours. Standard and king bamboo pillow cases can be purchased as separates. A new addition to Sleep Comfort Bamboo's range of luxury bamboo bedding is a high thread count premium bamboo sheet set decorated with an elegant eyelet hemstitch. Sleep Comfort Bamboo's premium sheet sets are available in white and ivory.
Visit our new on-line store at sleepcomfortbamboo.com to see how our beautiful bamboo bed linens will complement your home and your life style.
###