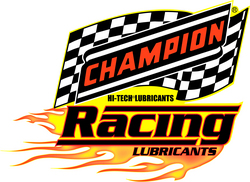 Fontana, CA (PRWEB) March 28, 2011
Appearing in additional popular series such as UMP, USCS, IRA, MLRA, MARA, and MARS, Champion Racing and Performance products are the choice of champions in racing events nationwide. Champion's new expanded contingency program supports race teams from dirt track to pavement, circle track to drag racing with product support and technical advice. Innovation and technical knowhow are at the heart of Champion's Racing and Performance division.
For more information regarding the 2011 Racing Contingency Program and additional sanctioned associations visit http://championsusechampion.com/contingency.html for rules and a downloadable validation form. To qualify for the contingency awards, the racer must pre-register online and provide proof of purchased product, decal placement, photo of car and award verification.
Champion Brands will issue a Credit Voucher towards Champion Racing and Performance Products for verified 1st place finishes at any recognized sanctioned event. Credit voucher is good for any Champion Brands Performance and Racing Products.
Champion Brands Racing Products are quickly becoming the standard for purpose built performance among racing teams across the county. Whether on the starting line or on the open road, Champion® Brands' High Zinc synthetic racing oils are specifically designed to provide racers and enthusiasts with increased horsepower and torque. All performance enthusiasts are driven, but only Champions use Champion®.
About the company: Champion Brands is a globally recognized industry leader in performance motor oils for over 55 years. Champion Brands also produces and blends over 300 products including fuel, oil, engine additives, and lubricants for the automotive, heavy truck, agricultural, industrial, and specialty markets. For more information about Champion Brands Racing & Performance Lubricants contact your nearest Champion distributor, or call Champion at 800-821-5693 or 660-885-8151.
Champion Brands, LLC
1001 Golden Drive, Clinton, MO
http://www.ChampionsUseChampion.com
# # #