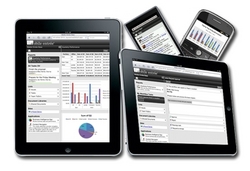 We have implemented a system that scales from smartphone to slate without having to build or configure separate apps for each.
Manassas, VA (PRWEB) March 30, 2011
H3 Solutions, Inc., the industry leader in SharePoint mobility, today announced an update to their innovative mobile application platform for Microsoft SharePoint. Mobile Entrée 2.3 expands support for SharePoint mobility to include the fast growing market of tablet devices like the Apple iPad and the Motorola Xoom tablet. This update also brings updates to the administration and diagnostics tools as well as new features that make it easier to repackage and deploy mobile solutions quickly.
Mobile Entrée 2.3 introduces a new system in its framework called "panels". Tablets and desktop browsers will receive a multi-panel interface while smartphones will only receive one. This system creates an extremely flexible environment where your smartphone, tablet, or low-bandwidth users can all access the same mobile applications without having to repurpose those apps for each form factor.
The panel system works with the out-of-the-box applications as well as any custom apps developed using the Mobile Entrée API. This means that all the great work our partners have done for their customers will now be supported on tablets with a user experience that one would expect on a larger form factor.
"Demand for tablet optimized interfaces for SharePoint has been huge." Stated Joe Herres, EVP of Product. "We have implemented a system that scales from smartphone to slate without having to build or configure separate apps for each. I really think we have hit this one out of the park."
Also new in Mobile Entrée 2.3 is the ability to save, download and share site templates that include Mobile Entrée configurations. This feature will make it easy to build repeatable site templates that include mobile access components.
And finally, Mobile Entrée 2.3 includes an update to the Health Check diagnostic utility. We have learned a lot about what issues our customers face when deploying Mobile Entrée across their SharePoint farm. We have taken this knowledge and developed a report you can run that will check all of the required capabilities on each server to assist with configuration and administration.
For more information, including a free 30-day trial, please visit http://www.mobileentree.com
About H3 Solutions
Founded in 2006, H3 Solutions is known for its expertise in Microsoft SharePoint technologies. A Microsoft Gold Certified Partner, H3 Solutions provides consulting for clients in both the public and private sectors. H3 Solutions is likely best known for the creation of the mobile application framework for SharePoint, Mobile Entree® (the industry's first SharePoint-integrated development platform for mobile applications that allows cross-device deployment). H3 Solutions is based in Virginia, and is privately held.
###