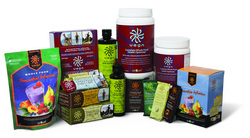 Port Coquitlam, BC (PRWEB) March 28, 2011
Vega, premium all-natural, plant-based health and performance products, is pleased to announce its arrival in Vitamin Shoppe, the leading chain store for health and wellness products. Packed with premium raw, organic ingredients to provide body vitality and peak performance, Vega's Sport Performance Optimizer and Whole Food Health Optimizer will now be easily accessible all over the U.S. through Vitamin Shoppe and VitaminShoppe.com.
Vega Whole Food Health Optimizer, the one-stop meal or snack choice, is ideal for time-crunched individuals concerned with nutrition and health. Packed with 26g of protein, 100% vitamins & minerals, fiber, Omega 3, antioxidants, probiotics, enzymes, and MacaSure, Vega contains no animal products, dairy, gluten, soy, sugar, wheat, yeast, artificial sweeteners, GMO's or pesticides. The Sport Performance Optimizer, an athletic necessity from nature, utilizes plant-based foods to provide a complete array of key performance enhancing benefits to take you and your athletic achievement to the next level, safely and naturally.
"I'm very pleased that an industry leader, such as Vitamin Shoppe, has stepped up and made the commitment to help make premium plant-based nutrition available to its customers," said Brendan Brazier, professional Ironman triathlete, bestselling author of the The Thrive Diet and Thrive Fitness and creator of Vega. "I look forward to visiting their stores while on tour and I commend them on their continued work in helping to keep Americans healthier."
"We are excited to be working with an industry leader like Vitamin Shoppe to further grow plant-based nutrition products," said Phil LeBeau, Director of Vega Sales.
About Vitamin Shoppe, Inc.
Vitamin Shoppe is a leading specialty retailer and direct marketer of nutritional products based in North Bergen, N.J. The company sells vitamins, minerals, nutritional supplements, herbs, sports nutrition formulas, homeopathic remedies, green living products, and health and beauty aids to customers located primarily in the United States. The Vitamin Shoppe conducts business through more than 450 company-owned retail stores, national mail order catalogs, and websites, http://www.VitaminShoppe.com, and http://www.EcoShoppe.com and has a social community site at http://www.VSconnect.com.
EDITOR'S NOTE: To interview Brendan Brazier or for more information on Vega, please contact Pamela Wadler or Nancy Trent at (212) 966-0024.
###