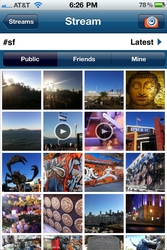 We are leveraging our experience in aggregating user generated content and building dynamic social communities"
Sunnyvale, CA (PRWEB) March 27, 2011
The creators of Phonezoo.com bring you a fresh new mobile entertainment application: Streamzoo. This mobile application helps you share and discover streams of mobile photos and videos. It's perfect for sharing moments and experiences with the world or just your friends. Users can search for streams, see what's trending now, and stay up to date with your friends' streams.
Streamzoo features the ability to follow streams, putting an innovating twist on the mobile photo and video sharing space. Find an interesting stream, follow it, and receive real time updates via feeds and notifications. Users can like and comment on content and view it on a map all within the app. There are also weekly and monthly leaderboards for users to compete on along with background queued uploads for fast, easy sharing.
"At Phonezoo we have always believed in bridging the gap between mobile and web via a compelling user experience. With Streamzoo, we have provided a fun and easy way to capture mobile photos and videos to share them with the world. We are leveraging our experience in aggregating user generated content and building dynamic social communities," said Ram Ramkumar, Phonezoo's Co-founder and CEO.
This unique application is cross platform, available on iPhone running iOS4 or above and Android running 2.1 and above. Streamzoo is also available on the web at http://www.streamzoo.com.
About Phonezoo
Phonezoo.com is the leading U.S. site for personalized online and mobile entertainment. By bridging the web and the mobile, Phonezoo has enabled effortless content creation, discovery, download and mobile personalization experience. It has revolutionized the mobile content marketplace by applying the ideas of user-created content and the power of the community.
# # #