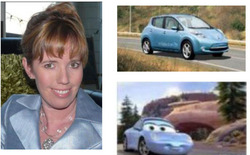 I told Carlos Tavares about bad spending of American taxpayer money and I created a blog to show Japan and Paris the problems in American. I've had over 1 million hits from 80+ countries. I think people are listening
Franklin, TN (PRWEB) March 28, 2011
Sharyn Bovat, the relocation consultant to Carlos Tavares, will appear in court in Franklin Tennessee at the Williamson County courthouse on Monday March 28th (case # gsc-3714).
For over 3 years Sharyn Bovat was considered one of the top relocation consultants in Middle Tennessee and was asked by Nissan North America to work in house to handle the relocation of Carlos Tavares, the first EVP to move from Japan to the United States. She was arrested 3 times and says the arrests were retaliation from her whistle blowing (case # gsc-3714). Bovat for months has been reaching out to members of the media and has said numerous times "I simply want to work and enjoy my life." Seeing a parallel to her story and the situation at Renault in Paris, Bovat started a blog and routinely emailed the French consulate. Bovat believes her viral protest of the unfair allegations against the 3 men helped to speed up the investigation. Several times Renault executives quoted and expected 6 months to a year for a conclusion of the formal investigation. On March 14th just two months after the men were accused Carlos Ghosn the CEO of Renault and NISSAN apologized the men. Sharyn would like her case to move faster. Bovat became a whistle blower over 2 years ago and is still waiting for resolution.
How could a carpool mom who was jailed 3 times for speaking out about discrimination and wasteful spending of taxpayer money be routinely ignore is the question that coolsprings.com is asking, and so is Sharyn Bovat.
The major newspaper in Tennessee the Gannet owned Tennessean has ignored 8 PR Newswire press releases. Coolspring.com has called to question the lack of mainstream press:
"For those not familiar, relocation consultant Sharyn Bovat has maintained multiple websites for over a year documenting her story. Why hasn't Nissan forced her to take them down? Jalopnik.com, a website covering automotive news, is the only media outlet on the planet to have mentioned the story other than CoolSprings.com. ….The Nissan whistleblower story on Jalopnik was viewed over 50,000 times in just a few days….We readily acknowledges the fact that this story is a little strange….Ever stranger is not one media or news outlet in Nashville has breathed a word of it.……."
Bovat alleges the community has vilified her after she communicated concerns to Mr. Tavares a NISSAN board member who became her relocation client in winter 2009. Bovat's claims of discrimination of women at NISSAN proved to be true by Nissan's own internal statistics. Women in management declined from 20.9% to 10 & after the company relocated to Tennessee.
Bovat classifies herself as a fiscal conservative. In the Coolsprings.com article Bovat states after being asked to help a VP find a spa for oxygen facials using taxpayer money she asked Nissan HR if it was OK and they said "yes" Bovat documented the spending issues and complained and said then she was offered money to be silent. http://www.coolsprings.com/news/nissan-whistleblower-arrested/
Jalopnik reported that Bovat stated concerns over the EV led to an internal battle of control and just a day ago the Wall Street Journal backed Bovat's repeated concerns about the EV in reference to the excessive government subsidies that Carlos Ghosn has collected from America. http://online.wsj.com/article/SB10001424052748704474804576222491981018266.html
The highest level "Falsely accused" executive at Renault was quoted by German publication Der Spiegal saying the "EV's harbor many unknowns." For almost 2 years Bovat has ranted about wanting the EV to succeed on her blog and says "At Nissan I was told the EV was to be a 'failed Obama program' and " when I saw the design I told Mr. Tavares that it was designed to look like a toy from the Disney movie cars."
Bovat adds "my blog is a way for me to get respect for the American taxpayers that are funding this." Two days ago The Wall Street Journal wrote an article about the Renault spy affair and like Bovat questioned Carlos Ghosn "The answer perhaps is that Renault-Nissan's biggest secret is just how much the company is depending on taxpayers around the world to make its green-car venture pay."
Since June 4th 2009 Bovat has had a blog http://www.girlintheblackhonda.com and has posted numerous allegations against Nissan. Bovat has posted numerous times that she's willing provide documentation and hand over a list. Bovat's emails to the French consulate and blog http://www.freedomfortherenaultthree.com were motivators for a quicke resolution. Sharyn is thankful to the internaional press that accepted her emails about the unusual connection in her case and the Renault spy story.
Bovat is also grateful to the local reporters that respectfully accepted her emails and read her concerns of those fighting charges at Nissan.
Recently Bovat has attempted using the same strategy used to help to clear the Renault Three in Tennessee and prominent news reporter Chris Cannon has asked Bovat to stop emailing him. Bovat respectfully asked WHY Nissan has not been questioned about her and she is still waiting for a response. Those emails are posted on http://www.sharynbovat.com
Sharyn says that she communicated to Mr. Tavares she wanted to be in charge of diversity and CSR when the battle of human decency was over. She's said numerous times on her blog that "if" it's not happening she wanted to stop the battle of human decency.
Bovat has recently published emails proving she was communicating with Nissan IT management "after" her website started. Bovat say's her website was just a tool for change at Nissan.
Bovat has court again on Monday and says she's tired of the harassment and humiliation that she has received from the community after becoming a whistleblower. She's fought on behalf of the American taxpayer and the Tennessee press has ignored her.
Sharyn has a 9 year old daughter who would like to "have her mommy back" so Bovat is digging into her past work experience and is going to punch back even stronger. Years ago Sharyn did political opposition research for consultants connected to Karl Rove and with a smile Bovat says "maybe it's time I showed the 'Good Ole Boys' they picked on the wrong woman."
Now this woman who was called "skirt" at Nissan North American is getting a publicist and she's planning on talking LOUDLY... well except not to CBS affiliate reporter Chris Cannon.
###