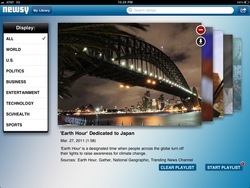 We are thrilled with the investment in our great team - it will allow us to hire and manage the remarkable growth our company is experiencing
Columbia, MO (PRWEB) March 28, 2011
Newsy, a mobile video news service, announced today it has closed a $1.5 million dollar round of funding.
The investment comes on the heels of the explosion of its mobile apps. Newsy recently won the Appy Award for 'Best News App' and its apps are consistently among the highest rated news apps on the iPad, iPhone, iPod and Android devices.
The Newsy iPad, iPhone and iPod apps are now fully Airplay-enabled - allowing users to stream Newsy content to their Apple TV and view next generation news on their television in stunning quality. Apple just added Newsy's iPad app to its "Great Airplay-Enabled Apps" category in the App Store.
Download the Newsy apps for free from iTunes today:
http://itunes.apple.com/us/artist/media-convergence-group-inc/id330879887
"We are thrilled with the investment in our great team - it will allow us to hire and manage the remarkable growth our company is experiencing," explains Jim Spencer, Newsy's founder and president.
Based in Columbia, MO and partnered with the world-renowned Missouri School of Journalism, Newsy is the go-to news app for on-the-go news users. In 2-minute videos, users understand the differences in coverage from media outlets from around the world as well as discover new sources they would not have found on their own.
The round of funding comes from a St. Louis-based private equity firm and will be used to grow the company's editorial, marketing and sales teams. This is the second investment the firm has made in Newsy - its principal stated, "We are very pleased to be able to make this latest investment in Newsy. Jim Spencer and his team have a great vision of the future of news content and distribution and we look forward to seeing it become a reality."
About Newsy
Newsy is a multisource video news service that analyzes the world's news coverage - highlighting the key differences in reporting. Through short videos available on the web and mobile devices (iPhone, iPad, BlackBerry, Android-based smart phones and Intel Atom-powered netbooks), Newsy accelerates the understanding of how a news story is covered.
# # #