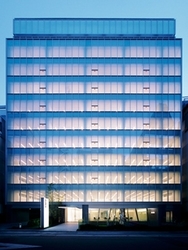 BUREAU, B-SITE and BUREX Serviced Apartment and Serviced Offices offer safe, accessible and reliable accommodation and office solutions for firms trying to achieve 'Business as Usual' in Tokyo.
(PRWEB) March 28, 2011
Japan-based firms tweak accommodation and office requirements to provide employee peace of mind and reliable support for Tokyo clients. BUREAU, B-SITE and BUREX Serviced Apartment and Serviced Offices offer safe, accessible and reliable accommodation and office solutions for firms trying to achieve "Business as Usual" in Tokyo.
"On March 24th we received an inquiry from a large foreign firm with expats who left Tokyo following the earthquake. They were basically asking how old our buildings are. Just before that, we had an inquiry from a Japanese firm located in a high-rise office that wanted to re-locate to a Minato-ku low-rise serviced office building. It seems that companies are hoping to increase peace of mind with their employees by offering safe accommodation in apartments near client sites and with good train/airport access. Corporate leaders also seem to be considering raising employee peace of mind with office space in low-rise, newer buildings with 24 hour access, good security and in areas less likely to be affected by rolling black outs expected in Tokyo. It is early to be sure, but it seems the earthquake, tsunami and ensuing nuclear issue may have a fundamental impact on how firms select accommodation and office space in Tokyo. I am proud that Space Design has the facilities to meet these requirements," states Ruth Shiraishi, a Director at Space Design Inc.
After almost three weeks of "wait and see" by many companies with projects in Japan, the general consensus is that business as usual should not be delayed much longer. Firms are taking steps to reboot their presence in Tokyo and whether that means new hires, alternate staff taking the place of those who left the city post-quake, or gathering Japanese team members from other parts of the country; valuable projects for important clients in Tokyo demand immediate and careful attention.
Space Design apartments and office space feature access to a 24-hour English/Japanese hotline service, service support in English, Chinese, Korean, Hindi and more, buildings managed entirely by Space Design and built less than 13 years back under Japan's stringent anti-earthquake construction codes, and 20 locations within walking distance from hub train stations with excellent airport and bullet train access. Space Design buildings are also located in Minato, Chiyoda and Chuo wards making them less-likely to be subject to the rolling black outs planned for the coming months.
Each apartment features full kitchen, washer/dryer, full-furnishings, direct phone/fax line, housekeeping/linen service, etc., and prices range from 150,000 yen to 600,000 yen/month for studio and one bedroom apartments with utility fees included. Serviced office space is also available for 1 to 20 person requirements.
Ruth concludes, "Japan is definitely going to rebound and come out of this difficult period stronger, smarter, kinder and more compassionate. Space Design is dedicated to supporting all firms that join in this great effort with reliable and friendly serviced apartment and serviced office space."
For more information, contact
Space Design Inc.
Nippon Press Center Building, 2F
2-2-1 Uchisaiwaicho, Chiyoda-ku Tokyo 100-0011
Tel: 81-(0)3-3502-7777, FAX: 81-(0)3-3502-7235
URL: http://www.space-d.co.jp
Media contact:
Ruth Shiraishi, Director of Business Development 81-(0)3-3502-7234
shiraishi-r(at)space-d(dot)co(dot)jp
About Space Design Inc.
Space Design Inc., is a real estate developer that manages 16 fully furnished and serviced apartment buildings across Tokyo and in Yokohama. It also manages the B-CONTE Residential Hotel series, one in Ariake and, another soon to be opened in Asakusa. Space Design Inc. also operates serviced office buildings under the BUREX brand and has a Japanese style Residential Hotel in Dubai called Ziqoo Hotel Apartments.
Visit http://www.youtube.com/watch?v=YDsYbwkXwzw to view Space Design's commercial, now airing on CNN-J and Fox TV
###