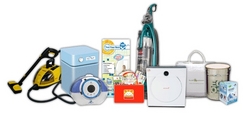 Your child will spend an enormous amount of time inside your home during those crucial developmental years
Roswell, Ga. (PRWEB) March 29, 2011
When anticipating the arrival of a new baby, parents, parents-to-be and other caregivers naturally want to provide a healthy and comfortable space for their child to rest, play and grow. To help parents succeed in this mission, Sylvane, a trusted name in indoor air treatment, proudly announces the Sweet Dreams Nursery Contest and Sweepstakes.
"Your child will spend an enormous amount of time inside your home during those crucial developmental years," said Steven Hong, president of Sylvane, a provider of high-quality air treatment products since 2000. "That's why it is so important to create and maintain a healthy indoor environment for them. Our contest aims to bring attention to the important role that a healthy living space plays in a child's overall development, health and well-being."
Contestants in the Sweet Dreams Nursery Contest will vie for four top prizes, including a Grand Prize Package valued at almost $3,000. The Grand Prize Package features items that promote a healthy nursery, including a selection of high-quality air treatment products and green baby products. The Grand Prize Package includes:

Oransi v-HEPA Plus Air Purifier
Austin Air Baby's Breath Air Purifier
Vapamore MR-100 Steam Cleaner
ECOS Paints $350 Gift Certificate
Bissell Healthy Home Vacuum Cleaner
Kumi Kookoon Baby Throw
Indoor Air Test "Test Your Nest" Testing Kit
Germ Guardian H1500 Humidifier
Oransi Robby Wash Ball
Happy Baby Organic Baby Food Gift Set
One runner up prize package valued at more than $1,400 will also be awarded along with two finalist packages valued at nearly $600.
To enter the Sylvane Sweet Dreams Nursery Contest, contestants should visit the Sweet Dream Nursery Contest website to submit a photo of their baby's nursery or space along with a statement of 150 words or less describing why creating a healthy and comfortable indoor environment for their baby is important to them. Following submission, contestant photos and testimonies will be displayed in the contest gallery where family, friends, and the general public can vote daily for their favorite contestant. The Sweet Dreams Nursery Contest begins at 9:30 a.m. EST on March 28, 2011 and ends at 11:59 p.m. EST on May 8, 2011.
During the week of May 8, 2011, the top four Sweet Dreams Nursery Contest finalists will be determined using results of the popular vote. A judging panel will then select a Grand Prize Winner and runner up from the group of four finalists. Contestant entries will be judged on a basis of originality, creativity, and relevance to the Sweet Dreams Nursery Contest theme. The Grand Prize Winner and finalists will be notified during the week of May 15, 2011.
Along with the Sweet Dreams Nursery Contest, Sylvane is hosting a Sweet Dreams Nursery Sweepstakes, awarding one of four sweepstakes prizes provided by the contest sponsors. Eligible contestants, family members of the contestants, friends of the contestants, and members of the general public who complete a registration form and cast a vote in the Sweet Dreams Nursery Contest are eligible to win a sweepstakes prize. Sweepstakes winners will be selected by a random drawing and announced during the week of May 15, 2011 along with the Sweet Dreams Nursery Contest winner and finalists.
The Sweet Dreams Nursery and Sweepstakes is made possible by the contest sponsors who include Oransi, presenting sponsor; Germ Guardian, gold-level sponsor; and Austin Air, Indoor Air Test, Vapamore, Kumi Kookoon, Bissell, ECOS Paints, and Happy Baby, Silver Sponsors.
For more information about the Sylvane Sweet Dreams Nursery Contest and Sweepstakes and to read the official rules, visit Sylvane's Sweet Dreams Nursery Contest homepage.
About Sylvane
Sylvane (sylvane.com) is a leading online supplier of high-quality air treatment solutions to the residential and commercial markets. The company's broad selection of products includes air purifiers, portable heaters, portable air conditioners, window air conditioners, humidifiers, dehumidifiers, swamp coolers, fans, vacuums, steam cleaners, and air quality testing products. Believing in the idea that better air begins with knowledge, Sylvane also provides its customers with detailed product information, air treatment learning articles, reliable product comparisons, and personalized consultation on indoor air treatment issues.
Note to Editors:

Steven Hong is available for interview upon request.
Press Contact:
Ivey Taylor
Phone: (800) 934-9194, Ext. 880
E-mail: press(at)sylvane(dot)com
###