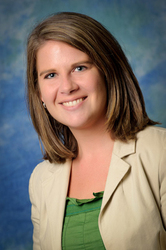 Altamonte Springs, FL (PRWEB) March 30, 2011
BioPlus Specialty Pharmacy (BioPlus), one of the nation's leading specialty pharmacies, today announced the promotion of Amanda Brown to Director of Rx Coordinators. She will have the primary responsibility of managing and training the sales team in her new role at the company, but Brown is also deeply involved in building business relationships with prescribers, achieving territorial goals, and maximizing potential revenue for BioPlus.
"Amanda has been a key part of our sales team success and we are thrilled to promote her to this important position. This promotion is a great example of matching leadership talent to our business priority here at BioPlus, which remains providing medications to patients while eliminating workloads from physician offices," says Dr. Stephen Vogt, President and CEO of BioPlus.
Brown's steady ascent to Director of Rx Coordinators began in May 2003 when she joined BioPlus as a sales representative. Over the years she quickly rose through several positions, such as Senior Sales Representative and Supervisor of Rx Coordinators. She holds a degree in Health Care Administration from the University of Central Florida, was the Salesperson of the Year for three consecutive years (2004, 2005, 2006), and was honored with the President's Award last year.
"Since I've worked with the sales team in various roles over the past eight years, I've developed a deep knowledge of what our clients need," Brown says. "In my new position I will reinforce these values to ensure that our entire sales team of Prescription Coordinators provide personalized service to every client. My goal is to relieve the administrative burden from the doctor's office while getting the best care to patients," she adds.
"Amanda has been indispensable in the sales growth at BioPlus, with a particular aptitude for putting in place practices that smooth the entire process for both doctor offices and patients," says Dr. Vogt.
About BioPlus Specialty Pharmacy
Altamonte Springs, Florida-based BioPlus is a pharmacist-owned national specialty infusion pharmacy company designed to provide high-touch services and specialty pharmaceuticals for patients with chronic diseases such as arthritis, hepatitis C, cancer, and others. BioPlus has served the needs of patients and prescribers of biologic medicines for over 20 years. Licensed in all 50 states, BioPlus is one of the nation's largest independent specialty pharmacies. Accredited by the Community Health Accreditation Program (CHAP), patients can contact the Pharmacy toll free at 1-888-292-0744.
For more information on BioPlus Specialty Pharmacy, visit http://www.bioplusrx.com
# # #