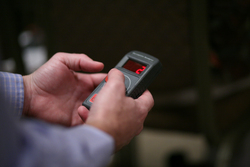 It quickly became clear that Dialsmith and its Perception Analyzer technology is the leader in delivering such capabilities and they did not disappoint. -Heather Carrington, Business Development, The Celebrity Apprentice for Mark Burnett Productions
Portland, Oregon, USA (PRWEB) March 28, 2011
Dialsmith LLC, developer of the market-leading Perception Analyzer® and ISX – Instant Scoring eXperience™ systems for research, audience polling, and scoring, has helped decide the next celebrity to be fired on the hit NBC series, The Celebrity Apprentice. On the March, 27, 2011, episode ACN employees filled the famous Helen Hayes Theater in New York City to screen two promotional videos, created by the contestants, for ACN's new video phone. Each employee was given a Perception Analyzer® dial and asked to vote for the team that they felt created the best promotional video.
"For this particular episode we needed complete and instant audience participation. It quickly became clear that Dialsmith and its Perception Analyzer technology is the leader in delivering such capabilities and they did not disappoint," said Heather Carrington, Business Development, The Celebrity Apprentice for Mark Burnett Productions. "Everyone at Dialsmith immediately understood our needs and worked to effortlessly make it happen. The result was full audience engagement that added an exciting and compelling element to the show"
Once the teams presented their videos audience members were asked to turn their Perception Analyzer dials and vote. Dials were instantly polled and the winning team was locked-in, to be revealed later by Donald Trump in the infamous Boardroom. In the end team BACKBONE beat out team ASAP by a margin of 53% to 47%. Watch the voting online and advance to time-point 51:35.
About Perception Analyzer®
The Perception Analyzer by Dialsmith has been serving the market, media, and public opinion research industries for more than 25 years. Originally developed for focus groups, the hardware and software have been redesigned to take advantage of leading technologies and to support other research and polling applications: television and advertising testing, litigation research and mock trials, corporate meetings, communications and messaging research, and politics and public policy research—including CNN and MSNBC's broadcasts of the 2008 U.S. presidential debates and 2010/2011 State of the Union speeches.
About Dialsmith®
Dialsmith® is the exclusive worldwide developer, manufacturer and marketer of the Perception Analyzer®, an interactive technology that helps researchers and presenters understand their customers and audiences more clearly. The Perception Analyzer is used around the world to test marketing strategies, advertising campaigns, television programming, political candidates, public policy issues, and much more. Trial Consultants use the Perception Analyzer to evaluate witness testimony and attorney presentations. Event producers and presenters incorporate the Perception Analyzer into their programs to engage audiences, evaluate ROI, and make learning more interesting and fun. Sports properties use the Perception Analyzer's sister brand, ISX – Instant Scoring eXperience™, to conduct instant judging and scoring for live and televised sporting events.
Contact
David Paull / Dialsmith, LLC / +1.503.505.6271 / david(at)dialsmith(dot)com / http://www.dialsmith.com
# # #