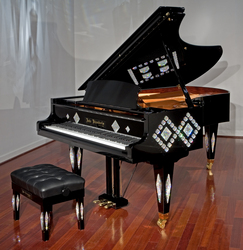 ... may be the perfect match for a music room in a luxury home.
Winston Salem, NC (PRWEB) March 29, 2011
Jon Kuhn, the world's foremost cold glass artist announces an expanded line of his dazzling Kuhn-Bösendorfer art case pianos, in addition to the $1.2 million Kuhn-Bösendorfer pictured here. Prices begin at around $700,000.
A Kuhn-Bösendorfer art case piano may be a perfect match for the music room in a Florida, California or New York luxury home -- or possibly a high end home in Hong Kong, China, India, Russia or the Middle East. Picture a Kuhn-Bösendorfer tucked under the grand staircase of a multi-million-dollar mansion, resplendent in a Las Vegas hotel lobby or as the concert grand in a performing arts center or concert hall. Or perhaps as the centerpiece in a gorgeous atrium designed by a leading interior designer, in a soaring public place or even a mega-yacht stateroom.
Kuhn-Bösendorfer art case grand pianos are a "grand collaboration" between L. Bösendorfer Klavierfabrik GmbH of Vienna, Austria and Kuhn, whose work is famous for its intricate design, extraordinary clarity, depth and brilliance. Kuhn cubes, ribbons, circles and works of varied sizes and geometries are included in the permanent collections of over 40 museums and are found in the homes of discerning art collectors and art glass aficionados worldwide.
Kuhn-Bösendorfer pianos are one-of-a-kind works of modern or contemporary art. They are true long-term art investments that buyers and their families will enjoy for generations. Kuhn-Bösendorfers may be commissioned in various sizes, from a parlor grand (slightly larger than a baby grand piano) to two full-size concert grand pianos, including the 97-key Bösendorfer Imperial. Each instrument takes about a year to create.
An unusual design feature of each Kuhn-Bösendorfer piano is a striking crystal fallboard logo that also has the purchaser's name imbedded in gold leaf. The family name thus becomes immortalized by placing it on a grand piano that will be enjoyed by the owner's descendents after four or even five generations.
Bösendorfer pianos have been valued for their exquisite sound and unparalleled playing quality since the early nineteenth century. They are made in Vienna (as they have been since Ignaz Bösendorfer founded the company in 1828) and are designed and crafted in a way that clearly separates them from every other piano on earth. Bösendorfer's choice of resonant spruce for their piano's rim allows the entire case to vibrate as one with the soundboard - like a rare Stradivarius violin. The result is an unusually pure voice with great transparency and great depth.
Piano music never sounded -- or looked -- so good.
About Jon Kuhn:
Jon Kuhn began his artistic life thirty plus years ago with organic blown glass forms. He then progressed rapidly to structured glass sculptures that became more deeply complex over time. Each work is one of a kind, whether a spinning cube that casts shimmering rainbows throughout the surrounding space or a crystal table that seems to glow with a soft inner light.
Visit the Kuhn-Bösendorfer Web site at http://www.kuhnbosendorferpianos.com.
Contact the artist directly at his Winston-Salem, NC studio: 336-722-2369
Contact Kuhn Studio Manager James Baldwin for sales and technical information: 336-722-2369
Interior designer inquiries are invited. Please call Brian Faulkner at 336-945-0720.
###