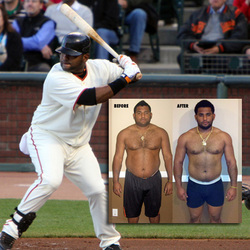 My daily protein requirement is pretty large, and Supreme Protein bars are a really delicious way to get me to my goal every day.
Manasquan, NJ (PRWEB) March 30, 2011
Pablo Sandoval was out of shape and he knew it. Worse yet, the fans knew it.
The man they call "Kung Fu Panda" was the toast of the town in 2009, when he hit .330 with 25 homers and 90 RBIs in his first full major league season. Those gaudy numbers earned him MVP votes and the appreciation of legions of fans in San Francisco who celebrated Sandoval as much for his "average guy" physique as for his long-ball prowess.
But Pablo Sandoval's weight kept increasing even as his power numbers started decreasing, and soon the Panda's lax approach to fitness stopped being funny. Toward the end of 2010, his weight had ballooned to an ungainly 278 pounds. By the time the San Francisco Giants were facing off against the Texas Rangers in the World Series, Sandoval was sitting on the bench for all but Game 3, where he was relegated to DH. As the Giants celebrated their first championship since 1954, Sandoval's future prospects never seemed grimmer. He felt bad, he looked bad, and his career was plainly in jeopardy.
Fast forward to spring training 2011 and the talk is once again all about Pablo Sandoval. And this time, the talk is all good. Teammates and competitors alike are doing double-takes when they first spy the slimmed-down third baseman charging bunts, backing up throws, and getting to the bag quickly on forceouts. More importantly, they're noticing improved bat speed and power from Sandoval at the plate. What changed?
"I knew I had to recommit to fitness and athleticism," the Giants former rookie sensation says. "This off-season I dedicated myself exclusively to working hard in the gym and improving my diet. That was my only focus."
Sandoval's efforts paid off impressively. Video clips of Sandoval's intense new workouts, posted on his website http://www.pablosandoval48.com soon began drawing the attention of fans. Watching the 270-plus-pound third-sacker punch out long series of pull-ups, viewers could see that Sandoval's awesome strength was still present and accounted for. Entirely new, however, was his renewed determination to shed fat, improve muscle tone, and enhance quickness. Sandoval's personal trainer emphasized stair climbs, free-weight and medicine-ball workouts, and agility drills (along with the usual weight training) in a targeted campaign to help Sandoval shed bulk.
At the same time, Sandoval's diet underwent a complete overhaul. Gone were the excess carbs and empty calories, replaced by a nutrient-dense regimen that emphasized lean proteins and high-energy healthy fats in smaller individual meals spread throughout the athlete's day. "I felt better almost immediately," Sandoval says. "Eating better was the foundation for everything I needed to achieve physically."
Like any new convert to a better diet, Sandoval missed the sweet treats. But even here, he had a new ally in the form of an elite, protein-packed, gourmet-quality snack. "Supreme Protein made all the difference for me," Sandoval says. "Whenever I was tempted to cheat on my diet, I knew I could grab a Supreme Protein bar and get all the flavor of a candy bar without all those empty carbs, while also getting the extra grams of top-quality protein I need to support muscle growth and recovery. My daily protein requirement is pretty large, and Supreme Protein bars are a really delicious way to get me to my goal every day."
As spring training 2011 winds to a close, Sandoval has rebounded nicely, hitting at a .303 clip. He's improved his range at third base and overall looks like a new man in the field. "I've increased my speed," Sandoval says. "My bat speed feels stronger. My arm feels better." And now a rejuvenated Kung Fu Panda looks to carry that new momentum into the 2011 regular season, showing his San Francisco fans a whole range of sharp new moves along the way.
To see Pablo's entire amazing transformation, go to http://www.pablosandoval48.com
###