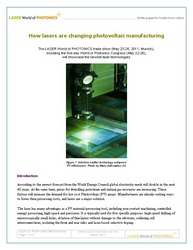 This white paper reveals PV processing state of the art and gives you a hint of what you will see at the LASER World of PHOTONICS trade show.
Munich, Germany (PRWEB) March 30, 2011
Messe München has just published a white paper that discusses how lasers, including CO2 lasers and laser cutters, are changing the photovoltaic manufacturing process. For example, laser ablation can take the place of common die etching. Laser drilling can create previously-impossible microholes in silicon substrates.
"How lasers are changing photovoltaic manufacturing" discusses the changes brought about by the use of various types of lasers used to process photovoltaic cells. Q-switched Diode-Pumped Solid-State lasers, gas lasers, Erbium-doped fiber laser used to perform Laser Assisted Doping, create Laser Fired Contacts and Emitter Wrap-Through vias, solder metal stringers and laser scribe the dies.
About LASER World of PHOTONICS
LASER World of PHOTONICS is regarded as the home base of the photonics industry. It is an exhibition designed to help participants learn more and cultivate industry contacts. This year will feature three focus topics "Lasers and Laser Systems in Production", "Green Photonics" and "Biophotonics and Life Sciences" and "Security and Defense". The fair will be held in Munich, Germany from May 23 to 26, 2011 at Munich International Trade Fair Center.
The free white paper "How lasers are changing photovoltaic manufacturing" is available download from the LASER World of PHOTONICS website.
###