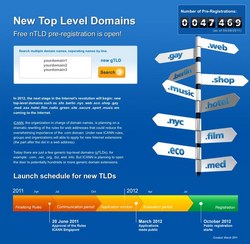 United Domains has 17 of the most popular new domain extensions available for pre-registration -- over 47,000 new names have been reserved already.
Boston, MA (PRWEB) March 30, 2011
European domain name registrar United Domains expands in the United States. The company's American website, http://www.uniteddomains.com, is now accepting pre-registrations for new domain extensions (new top-level domains). Over 17,000 new domain names were reserved on the first day of launch.
ICANN, the international authority that oversees Internet addresses, plans to introduce a collection of new domains in 2012. While Internet addresses are dominated by the .com, .net, and .org domains, the addition of niche specific domains like .site, .green, and .secure will help expand the real estate available for websites. Experts predict that by mid-2012, several hundred new domain endings will be available for registration.
Currently, United Domains is accepting pre-registrations for the most popular new top-level domains: .shop, .eco, .web, .med, .gay, .film, .music, .hotel, .nyc, .sfo and .berlin. Over 47,000 new domain names have been pre-registered already. United Domains is also taking pre-registrations for the new .XXX domain, which will launch in June 2011.
In support of this market expansion, United Domains has opened an office in Boston, MA that will focus on developing the US market, headed by the company's founder and CEO, Florian Huber.
"In the field of Internet domain names, North America is by far the largest and most exciting market. Following our success in Europe, expanding to the USA is the next logical step. Although America is a mature and competitive market, we see growth opportunities for our company in the new top-level domains niche," said Huber.
# # #