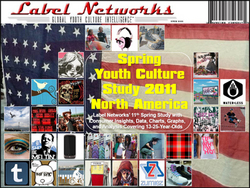 "This new demographic is unique in many ways, having come through a recession, globalization, with fresh interests in new types of lifestyle associations."
Los Angeles, CA (PRWEB) March 30, 2011
Fresh research from Label Networks' 11th Spring Youth Culture Study reveals key findings that leave little doubt that a new generation has come into their own, creating a fresh set of trends within the American youth landscape in spending patterns, use of social media, communication patterns, and changes in brand preferences in fashion, footwear, music, sports, and relevant lifestyle associations.
"It's a new youth culture marketplace now with their own set of identity, spending patterns, and thoughts on what's most important to them," explains Tom Wallace, President of Label Networks, a leading global youth culture intelligence and brand strategy company, and producers of the Spring Youth Culture Study 2011—North America.
"Brand preferences have changed and new brands and retailers, especially online, are re-shaping the landscape. This new demographic is unique in many ways, having come through a recession, globalization, with fresh interests in new types of lifestyle associations," continued Wallace.
Comparing results for the past 11 years, Label Networks has been able to future forecast, as illustrated within this Study, as to where the greatest challenges are ahead, but also many new market opportunities which some brands have successfully integrated. It's also clear that there is a "generation gap" occurring within youth culture itself: Starting at the age 21, results reflect distinct differences from other age demographics when it comes to technology patterns, communication, and new media.
Youth culture in North America is one of the most important demographics shaping the landscape of the global future not only because of their vast spending power, but because they tend to lead as a primary source of global inspiration for many other youth markets. Internet access has created a whole new level of connectivity across cultures, which makes knowing what's shaping and influencing youth culture here, vital for where things may be heading across other youth markets around the world.
Specifically, the 500-page Study is based on thousands of interviews from a statistically representative sampling conducted within the last 7 weeks, providing the most current youth consumer insights available. It also delivers far more depth than typical youth branding "top-10 brand lists" by offering additional rankings to see the up-and-comers in brands, retailing, music, sports, and websites that are capturing the attention of the marketplace with unique marketing, sponsorship, and new media strategies.
Data is also combined with comparative analysis called "Macro Trends" written, illustrated, and designed for each topic by Label Networks' Youth Culture Experts to provide a quick snapshot of key findings, including historical analysis, visuals, and pull-quotes for fast, effective, forecasting.
Highlights from the Spring Youth Culture Study 2011 include:

Favorite Fashion Brands and Stores, Ecommerce and MCommerce, Fashion and Virtual Lifestyles, New Media and Fashion
Special T-shirt and Denim Reports, Top Brands, plus Brands Gaining Marketshare and Why, Frequency of Buying, and Changes in Spending Patterns
Footwear, including Sneaker Culture as influenced by Youth Preferences
Digital Lifestyle information ranging from Spending Patterns, Online Retail, Cell Phones, Features, Smart Phones and Apps, and Communication Patterns
Changes in Retail: MCommerce, Pop-up, Virtual, Fast-Fashion, Crowdsourcing, Collaborations
Action Sports popularity shifts, Team Sports, Individual Sports, Outdoor Sports, Urban Sports and Lifestyle Indicators, Icons and Watching Patterns
Top Future Concerns and Perceptions Capturing the Psychodemographics of Youth Culture Today
Spending Patterns Report detailing changes in more than 10 Key Categories
Retail Landscape measuring Big-box, Fast fashion, Boutiques, and Online Retailing Trends
Quantified shifts in Buying Habits, In-store Influences, and Turn-offs
Communication Patterns, Grassroots and New Media Effectiveness and What Works Now
Video Gaming Preferences, plus Platforms and changes in the marketplace
New top Music preferences and the Sources of Influence, plus Music as indicators of Trends in Information
Beverages, Energy Drinks, and Sponsorship and how the Landscape is Evolving
For businesses looking to maximize their strategies as they pertain to the youth marketplace,Label Networks' Spring Youth Culture Study 2011—North America provides the knowledge for inspiring feed-forward ideas such as where things are headed, how things have changed, and why. For subscription information, email info(at)labelnetworks(dot)com; or call (323) 630-4000; http://www.labelnetworks.com.
About Label Networks:
Label Networks, Inc. is a leading global youth culture marketing intelligence and brand strategy company that measures the most trendsetting subcultures in the world. Since 2000, Label Networks has created Global Youth Culture Studies and topical Profile Reports based on Label's proprietary methods to gain constantly fresh quantitative and qualitative data utilizing a combination of remote data-acquisition and analysis systems, and a unique network of Global Youth Culture Experts and Analysts. The results offer scientific and intuitive information, which Label Networks uses as the basis for brand strategies to connect today's original thinkers in branding, marketing, and sponsorship to the youth marketplace. Among Label Networks' clients: Apple Computer, Timberland, Dickies, Bauer, Airwalk, Kia, LogiTech, Dr. Pepper, Sunkist, SkullCandy, 7-11, RedBull, Coca-Cola, New Balance, Fuel TV/Fox Sports, Oakley, The North Face, Vans Warped Tour, Keep-a-Breast, Fuse Marketing. Contact: Label Networks, Inc., 548 South Spring St. #PH9, Los Angeles, CA 90013; (323) 630-4000; info(at)labelnetworks(dot)com; http://www.labelnetworks.com.
###