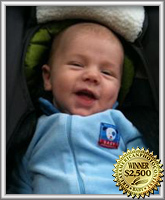 Fort Lee, NJ (PRWEB) March 30, 2011
The Great American Photo Contest, LLC, the leading on-line family photo contest company in the United States, announced today some of its recent winners.
In February, baby boy Justin pictured in his baby blue "onesy," "wonsied" the $2,500. His mother, Marcela M. from Pennsylvania, was surprised and thrilled to receive the call from Great American. She said, "Oh my, I can't believe it. Really? We really won? That's amazing!" Justin received the most votes in February, and Marcela said she got a lot of her friends and family to vote every day. In a letter that Marcela sent to Great American, she said, "On March 7, the President of the Company called me with the marvelous news that Justin won the $2,500 contest. I was speechless because I couldn't believe that it was true, even though I wished it was. Nothing like this happened to me before, and I thought that it is too good to be true. Well, it turned out to be real! Thank you Great American Photo Contest for giving people the opportunity to share pictures of their loved ones on this site! By hosting this contest you make people happy, and you also make a difference in the winners' life by investing in their college education."
In January, the pretty little Mia Isabella from Texas won the $2,500 prize in our baby photo contest. Her mother Rita told Great American, "Wow! I still can't believe how easy it was to win! Mia is five months and she is mommy's greatest gift from God. You can't help yourself falling for her when she gives you her biggest smile. Again, thank you so much!" A couple of weeks later, Great American Photo got a letter from Mia's mom, Rita, where she said: "I just wanted to let you know I just got the winning prize check for my daughter Mia Isabella and wanted to thank you so much!!! That check is going straight to my daughter's education account. I still can't believe it!!! I have never in my life won anything...well my daughter won. Thank you so much." Great American's CEO said, "We always ask the parents to put the money away for their children's education. All the parents agree to do it, which is obviously a great thing for the children. It's great to hear that Rita did it for little Mia."
See the winning baby photos here: http://www.greatamericanphotocontest.com/BabyContest/winners.aspx
In Great American's Pet Photo Contest, the cute little shih tzu, Abby, was the $1,000 cash prize winner for February. Cathy C., her owner, told Great American that Abby is her best friend, and such a joy to have. When asked about the contest, Cathy said, "I couldn't believe how easy it was to vote, all I had to do is ask family and friends to vote for her. I'm so glad to know that I have the cutest shih tzu in America! She is my pride and joy."
In January, Zoey, Bear & Sarge - an adorable "basket of Corgis"- won the $1,000 prize for the cutest pet photo. Their owner, Patty N., now has to split the $1,000 cash prize among the three puppies; hopefully these three brothers will share the spoils of their victory.
See the winning pet photos here: http://www.greatamericanphotocontests.com/Winners.aspx
###