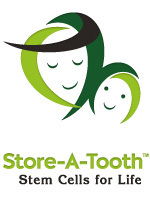 The potential of stem cell therapy is becoming more widely known to people around the world. The good news is that teeth are an easy, affordable, and non-invasive source of stem cells.
Lexington, MA (PRWEB) March 29, 2011
Store-A-Tooth™ today announced that it will collaborate with Cordon de Vida in several Latin American countries to collect and preserve stem cells from teeth—baby teeth that come loose during childhood, wisdom teeth extracted from teens or young adults, and teeth that need to be pulled to make room for braces.
Under the collaboration agreement, Cordon de Vida will offer Store-A-Tooth services directly to consumers and dentists in several countries across Latin America. Dentists and oral surgeons assist with tooth collection for parents who choose to save the stem cells in their children's teeth – as an investment in their family's future health.
Teeth removed during routine dental care will be shipped in special transport kits from dentists' offices to a high-quality cell-preservation facility in the United States. The agreement covers Panama, Venezuela, Costa Rica, Ecuador and Guatemala.
"The potential of stem cell therapy is becoming more widely known to people around the world," said Howard Greenman, chief executive officer of Provia Laboratories, LLC, which provides the Store-A-Tooth services. "We expect to move quickly on international opportunities even as we continue expanding our reach within the United States. In Cordon de Vida we have a partner that has been extremely successful in Central and South America because of their commitment to quality, customer satisfaction and strong leadership."
In 2000 researchers at the U.S. National Institutes of Health (NIH) demonstrated that teeth are a source of stem cells with the potential to differentiate into various specialized cell types. In human studies, dental stem cells have already been used to regrow jawbone and treat periodontal disease. Research into a number of medical applications is early, but promising. Stem cells from teeth are being studied for their potential to help treat conditions such as type 1 diabetes, spinal cord injury, heart attack and stroke, corneal damage and neurological diseases like Parkinson's.
"This collaboration is a natural extension of our work in helping families prepare to take advantage of what we believe will be the growing number of applications for stem cells in medicine and dentistry," said Michael Rottenberg, business manager for Cordon de Vida, S.A. in Panama. "We have already established a leadership position in preserving stem cells from umbilical cord blood. Because the potential uses of stem cells from cord blood and teeth are complementary, we are pleased to offer both services for parents who wish to store their children's stem cells. We chose to partner with Store-A-Tooth™ because their platform is built upon proven technologies, and the team's experience and commitment to quality are consistent with ours."
The process is simple. The patient's family makes an appointment when a baby tooth is ready to fall out or a wisdom tooth needs to be extracted – it's recommended to have the tooth taken out by a dental professional so its blood supply is still intact. After removing the tooth, the dentist or oral surgeon places it into a kit designed to protect the tooth during overnight transport to the cell-preservation facility. There the sample is decontaminated, tested to confirm its sterility, and the dental pulp harvested from the tooth. Quality control tests such as flow cytometry are performed to confirm that stem cell biomarkers are present in the samples, which are then stored at extremely low temperatures so that the stem cells can be retrieved and used in future years.
Financial details of the collaboration are not being disclosed.
About Provia Laboratories LLC
Provia Laboratories, LLC (http://www.provialabs.com) is a healthcare services company specializing in high quality biobanking (preservation of biological specimens). The company's Store-A-Tooth™ service platform enables the collection, transport, processing, and storage of dental stem cells for potential use in future stem-cell therapies. The company advises industrial, academic, and governmental clients on matters related to the preservation of biological specimens for research and clinical use. In addition, Provia offers a variety of products for use in complex biobanking environments to improve sample logistics, security, and quality. Provia Labs is a member of ISBER, the International Society for Biological and Environmental Repositories.
For more information about Store-A-Tooth, call 1-877-867-5753 or visit http://www.store-a-tooth.com, now available in English and Spanish.
About Cordon de Vida
Cordon de Vida (http://www.cordondevida.net/en) started its operations in 2006 by sending umbilical cord blood to Family Cord in California. In January 2007, a laboratory was opened in Panama in order to serve other Latin American markets. This modern facility features the latest technology in cryopreservation and is accredited by the American Association of Blood Banks (AABB) as well as being registered with the FDA. Cordon de Vida currently has offices in Panama, Venezuela, Costa Rica, Ecuador and Guatemala and has plans to offer its services in El Salvador, Nicaragua and Honduras by the end of 2011. Cordon de Vida is continuing to consolidate as one of the leading cord blood banks in Latin America, offering the highest standard of quality to its clients. Cordon de Vida is now expanding its services to include dental stem cell preservation.
# # #