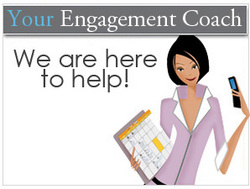 American jewelers now offer an array of unique options of one-of-a-kind pieces. From fancy cut diamonds to rose gold and sapphire accents, the combinations for engagement ring styles have become endlesse
New York, NY (PRWEB) March 30, 2011
"The days of simple solitaire engagement rings are over," says Severine Ferrari, editor-in-chief of Engagement 101 Magazine. "American jewelers now offer an array of unique options of one-of-a-kind pieces. From fancy cut diamonds to rose gold and sapphire accents, the combinations for engagement ring styles have become endless."
Engagement 101 Magazine, and its online counterpart, YourEngagement101.com, is devoted to helping couples with not only finding that oh-so-perfect engagement ring, but with helping them throughout the entire engagement process as well. Hot topics such as changes in the relationship and marriage proposal ideas are extensively covered.
Engagement 101 also stays on top of all the latest engagement ring trends and presents a selection of thousands of rings from hundreds of designers. More than 600,000 ladies-in-waiting and committed men visited Engagement 101 in 2010 to plan their engagement. Couples socialize with the Engagement 101 community and find their engagement ring. Sharing and social networking options have become a unique way for girls, in particular, to find and then tell their boyfriends what they want.
The Engagement 101 Daily 101 blog, hosted by managing editor Tiffany White, is a place where couples can get caught up on all the latest engagement news, and has become a visitors' favorite . From news about the latest celebrity engagements, to funny quips about the latest viral marriage proposal, if it's engagement related, it's on the Daily 101 blog.
In addition to a sleek, new design, YourEngagement101.com is unveiling in 2011 a new feature called The Engagement Coach. The Engagement Coach is a one-stop place where soon to be engaged men can get personally tailored engagement advice. They can either post questions in an open forum or they can apply for one-on-one advice, which is completely confidential.
About Engagement 101:
Engagement 101 Magazine was first published in the 90's as a supplement inside of Wedding Dresses Magazine. It is distributed in newsstands in the US and Canada. Yourengagement101.com is the online interactive portal of the magazine.
# # #