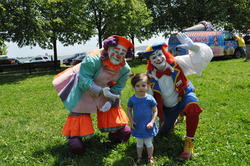 Boston, MA (PRWEB) March 30, 2011
Join burn survivors, supporters and firefighters from across New England on Father's Day, Sunday, June 19th at beautiful Castle Island in South Boston for the 2nd Annual New England Walk for Burn Awareness. Help us raise funds in support of those in our communities who have been affected by a burn injury.
Building on the success of our 1st Walk, this year's event promises to be even bigger! The Walk will kick off with the Boston Firefighters Honor Guard and Greater Boston Firefighters Pipes and Drums leading walkers between two Boston ladder trucks with the American Flag flying overhead, and will then proceed out along Boston's waterfront for an approximately two mile scenic walk around Castle Island. Along the way walkers will be entertained by Shriners Clowns, local celebrities and a water show from Massport's Fire Boat, the Howard Fitzpatrick. After the Walk there will be plenty of time to relax, enjoy some refreshments and spend time reconnecting with friends while your children enjoy the many activities on hand.
The American Burn Association estimates that fire and burn injuries are the second leading cause of accidental death in children ages one to four, and the third leading cause of injury and death for those ages one to eighteen. Each year in the U.S. more than 500,000 people suffer burn injuries. Shriners Hospitals for Children® – Boston and the International Association of Fire Fighters Burn Foundation know firsthand the emotional and physical damage that burn injuries cause. We believe there is a tremendous need to prevent these injuries from occurring and to make certain that burn patients continue to receive the highest quality of health care available to them regardless of their ability to pay.
The Walk fee is $25 and includes a tee shirt and refreshments. Children under 12 are free.
Proceeds from the event will benefit the Shriners Hospitals for Children® – Boston, IAFF Burn Foundation and Boston Firefighters Local 718 Burn Foundation.
For more information on registering for this year's walk or to make a donation visit http://www.burnawarenesswalk.org.
###