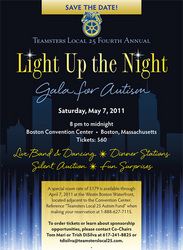 Charlestown, MA (PRWEB) March 29, 2011
Teamsters Local 25 plans to "Light up the Night" at the 4th annual Gala for Autism on Saturday, May 7, 2011, at the Boston Convention and Exhibition Center with a gala evening that will include dining and dancing, the chance to win a $10,000 cash prize and a great silent auction.
House Speaker Robert DeLeo will be honored with an Essential Piece Puzzle from Local 25 for the work he did to help pass the autism insurance bill, that requires private health plans to treat Autism as a medical condition, and to provide coverage of the diagnosis and treatment of autism spectrum disorders.
Emceed by WCVB's Randy Price, guests will dine on delicious cuisine and dance to Boston's favorite disco funk band, Booty Vortex. They'll be able to enter to win one of three cash prizes, valued at $10,000, $5,000 and $2,500.
Gala tickets are $60 and can be bought by calling 617.241.8825 or visiting the Union Hall in Charlestown.
Local 25 President Sean O'Brien today announced an all-star list of Honorary Committee members that span the entertainment, sports, political and medical spectrum.
For more information visit http://www.teamsterslocal25.com.
Teamsters Local 25 4th Annual Gala for Autism 2011 Honorary Committee

Governor Deval Patrick
Mayor Thomas Menino
Lt. Governor Tim Murray
Larry Cancro, Boston Red Sox & Autism Speaks, New England
Michael Feinberg, Feinberg, Campbell & Zack, P.C.
Secretary-Treasurer David Laughton, Teamsters Joint Council 10 New England
Jack O'Callahan, Olympic Gold Medalist, 1980 US Hockey Team & Beanpot Financial Services
Peter and Minou Palandjian, Intercontinental Real Estate Corporation
Randy Price, WCVB-TV
James Rooney, Massachusetts Convention Center Authority
Mark Roithmayr, Autism Speaks
Helen Tager-Flusberg, Ph.D., Boston University School of Medicine
"Irish" Micky Ward, Former WBU Light Welterweight World Champion
Event sponsors include Feinberg, Campbell & Zack, P.C. and Intercontinental Real Estate Corporation.
In the last four years, Teamsters Local 25 has raised nearly half a million dollars for Autism and continues to be New England's premier fundraiser for Autism Speaks, a national advocacy organization dedicated to funding research into the causes, prevention and treatment of autism.
When: Saturday, May 7, 2011; 8pm to midnight
Where: Boston Convention and Exhibition Center; 415 Summer Street, Boston
# # #