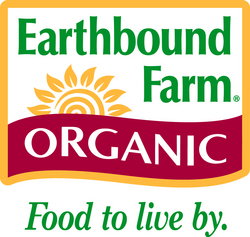 San Juan Bautista, CA (PRWEB) March 29, 2011
WHAT: Earthbound Farm's Earth Day promotion asks Facebook friends new and old to "Eat Better for the Earth, Eat Better for Yourself" by participating in a photo contest honoring Earth Day and the way our food choices can help reduce our impact on the planet.
The reward is a chance to win three delicious days in Monterey, California with Earthbound Farm, celebrity chefs and Food Network stars at Cooking for Solutions 2011®, America's sustainable food and wine party at the Monterey Bay Aquarium.
HOW: Facebook users who like Earthbound Farm can enter the contest by answering the question, "What do you love — or hate — about what's on your plate?" with a snapshot from any meal and 50 words or less. Facebook users can share with their friends and vote for their favorite entries. The most popular entries will be eligible for weekly prizes, and Earthbound Farm will choose the Grand Prize winner from among the top 10 entries with the most votes overall.
WHEN: The contest runs from March 29, 2011 through April 19, 2011, on Earthbound Farm's Facebook page.
WHY: Honor Earth Day and win great prizes:
Weekly Prizes: Each week, the 25 entries with the most votes win a signed copy of The Earthbound Cook: 250 Recipes for Delicious Food and a Healthy Planet by Earthbound Farm co-founder Myra Goodman.
Grand Prize: On Earth Day, April 22, 2011, Earthbound Farm will choose one Grand Prize winner from the top 10 entries (determined by number of votes). The Grand Prize winner receives a gourmet weekend for two in Monterey, Calif., including round-trip airfare, luxury accommodations at the new Intercontinental The Clement Monterey Hotel on historic Cannery Row, coveted tickets to the Cooking for Solutions® sustainable food extravaganza, May 20-22 at the Monterey Bay Aquarium, and more (total retail value $6,000). See details for more information for more information.
Earthbound Farm began 27 years ago with a small backyard garden and a big commitment to organic. Today, the company works with 150 dedicated family farmers to offer more than 100 varieties of certified organic salads, fruits, and vegetables to shoppers across the country. Earthbound Farm's organic farming methods on more than 36,000 acres will keep more than 11.5 million pounds of conventional chemicals out of the soil, water, and air during 2011 alone. For more information: EBfarm.com or Facebook.
# # #