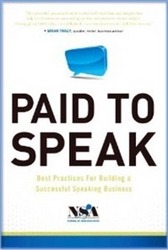 We are honored that more than 30 award-winning, speaking professionals joined forces to build this book that defines the business of speaking
Phoenix, AZ (PRWEB) March 29, 2011
This week, the National Speakers Association releases their first book Paid To Speak which will be available to 3,000 members across the nation as well as Amazon. "We are honored that more than 30 award-winning, speaking professionals joined forces to build this book that defines the business of speaking," remarks Stacy Tetschner, Executive Vice President & CEO of the National Speakers Association (NSA). "Further, the collective authors share strategic business tools and insight, within 29 concise chapters, that can advance the skills of any speaker that wants to move ahead in this highly competitive industry."
Why would the speaking profession be competitive? "Over time, these masters of the platform have continued adding tangible value to their clients as well as their bottom lines. These positive results, differentiates them from many of today's professionals that may be recovering from the correcting economy," noted Kristin Arnold, NSA President. "Telling NSA demographics include, an association with 62% of members having an average annual income greater than $100,000. As a testament to the quality of content in the new book, 55% of our members are authors and more than half earn $5,000+ for a full day engagement."
Switching from the competitive landscape to a collegiate advantage, is Paid To Speak an educational tool for today and tomorrow's professional speakers? "Experience has shown many of us, that education is what's left over when all the training is long forgotten," adds Dr. Nido Qubein, president of High Point University. "Since the content of the new NSA book focuses on the 'how' as well as the 'why', it can certainly be an asset and tool for the reader. Especially to those who believe that when presented with a challenge, our education and knowledge of 'why' - gives us the confidence to strategically plan for more than just a remedy."
Building on the subject of strategy, can professional speakers and leaders benefit from NSA's new book? "Absolutely," replies LeAnn Thieman, recognized author, columnist and member of the Speaker Hall of Fame. "Speakers as well as leaders, that want to build their presence while inspiring others, will learn from experts that have set themselves apart in key industries and through many different economies."
About Nido Qubein
Dr. Nido Qubein is an international speaker and accomplished author on sales, communication, and leadership. He is president of High Point University, which has an enrollment of more than 4,200 undergraduate and graduate students. Additionally, he serves on several national and local boards and is the recipient of numerous awards. Nido Qubein is also chairman of Great Harvest Bread Company with 218 stores in 42 states. To learn more about Dr. Qubein, please visit: http://www.nidoqubein.com
About LeAnn Thieman, CSP, CPAE,
LeAnn Thieman began her speaking career by sharing life-balance lessons from her daring adventure of rescuing orphans at the end of the Vietnam War. A professional speaker of 15 years and now a member of the Speaker Hall of Fame, she serves health care associations and organizations, hospitals, foundations, and woman's organizations. LeAnn has written 12 Chicken Soup for the Soul books, plus Balancing Life in Your "War Zones," A Guide to Physical, Mental, and Spiritual Health. She is a regular columnist for several journals, magazines, and websites in her health care niche. To learn more about Ms. Thieman, please visit: http://www.leannthieman.com
About The National Speakers Association
The National Speakers Association (NSA) is the world's largest, recognized authority for the profession of speaking. As a not-for-profit association, NSA has over 3,000 members that include experts in a variety of industries and disciplines who reach audiences as trainers, educators, humorists, motivators, consultants, authors and more. Founded in 1973, NSA offers the highly acclaimed Certified Speaking Professional (CSP) certification, online education programs, award-winning Speaker magazine, Voices of Experience audio publication, conferences, networking, and research opportunities. They are also a member of the Global Speakers Federation. NSA has been featured on ABC, NBC, and in Forbes, Inc. Magazine, The New York Times, The Wall Street Journal, along with other business journals and leading industry publications.
To learn more about NSA educational programs, resources, as well as the annual conference scheduled for July of 2011 in Anaheim, California please visit their web site at: http://www.nsaspeaker.org.
Business Note: Corporations interested in exploring opportunities surrounding a book series should contact the associate publisher, contact(at)greenleafbookgroup(dot)com
at Greenleaf Book Group or via telephone at: +1 800.932.5420
Press Copies: Advanced readers copies of the book are available to the press upon request. Please send an e-mail to Andrea DiMickele at andrea(at)nsaspeaker(dot)org
or contact via telephone at: +1 480-968-2552
CONTACT INFORMATION:
Stacy Tetschner, CAE
Executive Vice President/CEO
National Speakers Association
V: 480.968.2552
Website: http://www.nsaspeaker.org
Andrea DiMickele
Marketing Manager
National Speakers Association
V: 480.968.2552
Website: http://www.nsaspeaker.org
Note: The names of actual companies and products mentioned herein may be the trademarks of their respective owners. Corcoran Associates submittal
###