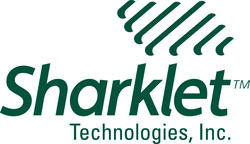 We are pleased to receive this significant award as it validates our use of a novel topography-based, non-chemical approach to inhibit bacterial biofilm development
Aurora, CO (PRWEB) March 29, 2011
Sharklet Technologies, Inc. today announced that it has been awarded a $1.2 million Small Business Innovation Research (SBIR) Phase II grant by the National Institutes of Health (NIH) / National Institute of Diabetes and Digestive and Kidney Diseases* to continue its development of a urinary Foley catheter with the Sharklet™ micro-pattern that inhibits bacterial growth on the surface of the catheter.
Building on the successful outcome from Phase I SBIR research that validated the effectiveness of the Sharklet pattern for inhibiting bacterial biofilm development, Sharklet Technologies will draw from Phase II funds to further evaluate several uropathogenic bacterial species, assess the pattern's ability to inhibit bacterial migration, and produce Sharklet-patterned catheters that meet functional, quality and biocompatibility requirements. As part of the research project, the company expects to conduct a small human clinical trial to guage in vivo efficacy. Concurrent to its research, the company will submit a 510K application to the FDA.
Sharklet Technologies' Director of Research Dr. Shravanthi Reddy, who led Phase I research, will serve as the principal investigator for the Phase II project. "We are pleased to receive this significant award as it validates our use of a novel topography-based, non-chemical approach to inhibit bacterial biofilm development," said Dr. Reddy. "Through our continued development of a Sharklet-patterned Foley catheter our goal remains constant – to advance catheter technology by reducing catheter-assosicated urinary tract infections, or CAUTI, which will improve patient outcomes and improve healthcare financials."
CAUTIs account for about 40 percent of the two million annually occurring hospital-acquired infections. About 95 percent of urinary tract infections are associated with urinary catheters. These infections account for an estimated $565 million annually in additional costs to patients and the healthcare system. About 8,000 patients die per year from CAUTI. Additionally, in 2008, Medicare announced that it will no longer pay for treatment of avoidable hospital-acquired infections due to urinary catheters effectively making hospitals economically responsible for reducing the occurrence of these infections.
Today's urinary catheter technology suffers from key drawbacks, most notably that they frequently cause infection due to bacteria colonizing the surface of the catheter. Current antimicrobial catheters rely on biocides to coat the catheter prior to insertion or antimicrobial agents manufactured directly into the surface of the catheter. These chemically-coated catheters elute their antimicrobial agents into urine, which can lead to the emergence and selection of antimicrobial-resistant strains of bacteria. The Sharklet micro-pattern is unique in that it is a surface texture – not chemical elution – that inhibits bacterial colonization. This non-toxic approach reduces the risk of development of multi-drug resistant bacteria species.
"Sharklet represents a breakthrough in bacterial control and the culmination of years of work in determining how surface topography can impact microorganism growth," said Mark Spiecker, chief executive officer of Sharklet Technologies. "We are grateful for this award as it underscores the importance of introducing new non-kill technologies to advance our standards for healthcare especially as it pertains to infection prevention."
Sharklet Technologies, Inc.
Sharklet Technologies is a biotechnology company that develops surface technologies that are designed to inhibit microorganism growth to make the world a healthier, environmentally safer and better place. Inspired by the microbial-resistant properties of sharkskin, Sharklet™, the company's core technology, is the world's first micro-pattern developed to control bacteria including Staph, MRSA, VRE, E. coli and a host of others. Sharklet™ is suited for commercial, healthcare, food service and laboratory environments where bacterial inhibition is desired to help protect human health. The company is based at the Bioscience Park Center,an incubator in the Fitzsimons Life Science District adjacent to the renowned Anschutz Medical Campus in Aurora, Colo. Learn more about Sharklet at http://www.sharklet.com.
*The project described is supported by Award Number 2 R44 DK084590-02 from the National Institutes of Diabetes and Digestive and Kidney Diseases. The content is solely the responsibility of the authors and does not necessarily represent the official views of the National Institute of Diabetes and Digestive and Kidney Diseases or the National Institutes of Health.
# # #