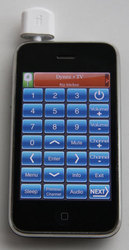 Sunnyvale, CA (PRWEB) March 29, 2011
Apptwee, LLC is proud to announce the US release of the ri® Universal Remote Control for iPad and iPhone. The ri® device, at only $19.99 - which is a half to a third less than the nearest competitive product - along with the free app, turns your iPhone or iPad into the most versatile universal remote control in the world making all other high-priced advanced infrared remote controls obsolete. The Apptwee ri®, which is no larger than a US Quarter and plugs into the iPhone or iPad audio jack, controls an ever-expanding database of products currently at 225 popular brands, over 72 device types, and 845 models of televisions, home entertainment, automation and lighting systems, computers, projectors, and other infrared-controlled devices. The ri® requires no batteries or charging, weighs a fraction of an ounce, fits in your pocket, can travel with you anywhere, and is brilliantly intuitive and simple to use.
Simply plug the ri® dongle into the headphone/audio jack of your iPad or iPhone, select your model TV, DVD, Blu-Ray, DVR, etc., from the device list, and in about 60-seconds, set-up is complete. Once you have configured one or more remotes, simply name the devices, add them to your favorites list, and you're now in complete control. You need not worry about setting-up or capturing IR, buttons, wireless links, nor do you need the original remote control. Apptwee has done all the boring and annoying work for you, so device set-up is fast and easy. Setting up a device takes approximately two minutes.
Have a call coming in? No problem. Since the ri® utilizes the headphone jack you can still answer your phone in speaker-mode. When you end the call, the ri® resumes at the last-used remote control User Interface (UI).
The ri® is only 1-1/2 inches long, 6/8-inches wide and 3/8-inches thick with the included protector cap. Do you travel a lot? Take the ri® with you for unprecedented control over the devices in your hotel room. Bring it to work and have paralleled control over board and conference room LCD and Plasma monitors, projectors, automated screens, lighting systems and more.
One of the coolest features of the ri® is it plugs into the audio/headphone jack. Ever have those sensitive micro-contacts in your data port get damaged when the plugged-in device gets wrenched the wrong way? We have. It sucks. Then syncing and charging never works right after that and you could be in for costly repairs. Since the ri® uses the audio/headphone jack of your iPhone or iPad, it won't damage sensitive inputs by almost any means and should something get hung up on the ri®, it just pops out. Ultra-compact with no moving parts, and manufactured of high-impact plastic, the ri® is practically bulletproof.
Having an issue or can't find a device from the included list? Access FAQ's, Quick Start Guide, Report an issue or Email Support directly from within the ri® app. The ri® is compatible with any Apple iPhone or iPad device that supports OS version 4.2 or higher, including iPhone 3G, 3GS, and 4G, and the iPod Touch 2G and higher.
The Apptwee ri® Remote Control Dongle is currently available at Amazon.com at $19.99 and the ri® app is downloadable for free from the Apple App Store. For more info, please visit http://www.apptwee.com or contact Christopher Buttner, President, PRThatRocks.com, at 415-233-7350 or email: chris(at)prthatrocks(dot)com - to see the Apptwee ri® in action, check out http://www.youtube.com/apptwee
###